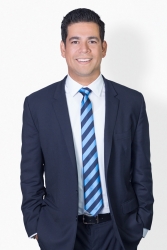 Newport Beach, CA, June 21, 2017 --(
PR.com
)-- Harcourts Prime Properties Proud to Announce Arrival of Jesse Carrillo.
"Simplicity, Certainty, and Transparency are three factors I can offer clients looking to buy or sell real estate these days," according to Orange County real estate agent, Jesse Carrillo.
Jesse is a Realtor and Broker who has sold in Beverly Hills and Los Angeles' exclusive Westside. Over the last ten years, he has worked with personalities in fashion, entertainment attorneys, Hollywood A-List celebrities, and CEOs as clients. New to Orange County and recently joining Harcourts Prime Properties Newport Beach, he is looking to introduce luxury auctions which offer unique characteristics especially attractive for his clients. Selling a client's house at an auction is often the best way to truly test the market, and get the best price for the property all in one. The guess-work is taken out of the equation. Not just a traditional real estate brokerage, Harcourts Prime Properties is also a licensed and bonded auction house. Selling non-distressed luxury properties from Santa Monica to Newport Beach and Newport Coast to La Jolla. We sell homes down the southern California coast ranging in price from $500,000 to over $6 million and average days on market are 32 days across the board.
Auctions bring back simplicity to real estate transactions. Homes are sold without contingencies and settled within a few days. If clients are selling, an auction means they set the terms and conditions of sale, reducing the chances of any surprises at settlement. Clients also experience certainty with the auction process. With an auction, a property is scheduled for sale on a given date. If there's no seller reserve, the property sells at that moment, as is, and without a spectacle. Jesse is able to be very transparent with his clients during the auction process. The property will be offered at a given time and date and likely sold within a few minutes. That's it. For the seller, an auction means not worrying about a lengthy marketing process, while for buyers interpreting the average days-on-the-market figure can become worrisome. These figures can be replaced by visible bids in real time. One of the most difficult situations in real estate is a property sale with multiple bids. No traditional buyer wants their offer revealed and no purchaser wants to bid more than they should. With an auction, multiple bids are a way of life: All bids are very clear, so the marketing process creates a level playing field for everyone. A prospective purchaser can bid or not bid with a clear understanding of the property's demand. Claims that "another buyer may be interested" have no meaning when a buyer can readily see and evaluate a solid bid with money on the table. With an auction, everyone gets the same chance to bid, at the same time, and with the same disclosures. Marketplace exposure is expansive, not restricted, and all are welcome. With public announcements and widespread promotion, there are no pocket listings when a home is sold through an auction. To learn more about Jesse Carrillo and his solutions for home sellers and buyers using the auction platform, visit www.jcocrealty.com.
Jesse's success comes from an honest approach, integrity, and professionalism with creative and innovative ideas, tirelessly doing whatever it takes to service his clients and friends. Jesse is driven by challenge, and not afraid to take risks to get the job done. Always looking to put the needs of his clients first, Jesse has built a reputation of discretion and getting results.
Jesse's business relationships with his clients has established him as a trustworthy resource in the area of real estate and investments. Jesse focuses his efforts on effective and creative marketing strategies that place his properties in front of the most discerning and qualified clients. It is the efficiency and property-focused approach to marketing that has provided successful results in the constantly changing real estate market. Jesse graduated with Honors from UCLA, where he studied history and education. He has lived and traveled extensively through Granada, Spain, and other parts of Europe, North Africa, and Asia. He is a member of the National Association of Realtors and the Beverly Hills Greater Los Angeles Area of Realtors & Orange County Association of Realtors. Please consider Jesse Carrillo if you would like more information on traditional or the auction process of selling your home. Jesse Carrillo's over ten years experience negotiating has taken over LA, now ready to sell in the OC.
For more information please visit
www.jcocrealty.com
Jesse Carrillo - Harcourts Prime Properties
190 Newport Center Drive, Suite 290
Newport Beach, CA 92660
(949) 922-8287
Jesse(at)jcocrealty(dot)com