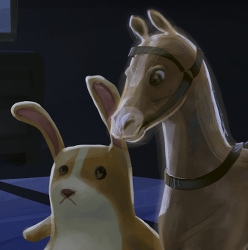 Raleigh, NC, September 09, 2017 --(
PR.com
)-- "The Velveteen Rabbit - a New Adaptation for TODAY's Kids" is a crowdfunding campaign that launches today on Kickstarter for Leviathan, LLC, a new independent children's book publishing company based in Raleigh, NC. According to the campaign's Kickstarter page, the adaptation features engaging new text, vibrant drawings, and a commitment to the spirit of the original. The project's goal is to raise $4,000.
Leviathan's Creative Director, John Jimerson states that the new book "keeps the depth, vibrant plot, and inventive characters of the original, while transforming it into a book that modern kids will love to read and have read to them."
Jimerson says that he got the idea for the project while reading classic children's stories with his daughter. He says that he "started noticing that some of the older books have sections that either don't make sense anymore or that have values that I really disagree with."
Grace Lin, the children's author of "Dumpling Days" and "Ling and Ting" recently spoke about a similar topic on PBS's News Hour. She noted that if an adult has a favorite classic children's book from their childhood, "there's a good chance that it might be racist." She explains that "these books were written 60, 70, maybe 100 years ago... Don't you think the world was a little more prejudiced back then? So, why wouldn't the books be too?"
Jimerson says that he agrees with Lin. He started thinking "what if … you could hold on to the parts of the old stories that are amazing, while letting go of the parts that simply don't fit anymore? What if we can reclaim these old stories as our stories. Imagine sitting in bed with your child, and they are begging you to read a book to them that is 150 years old, because it's the best story they know. And what if that old book has been adapted to be engaging and to be inclusive and to celebrate diversity? That's what we want to create."
So, Jimerson and graphic designer Juls Sosa chose a favorite book, "The Velveteen Rabbit," as their starting point, with a view towards adapting many more classic children's books in the future.
When kids read the original Velveteen Rabbit, Jimerson says, "they get bored. I think they get bored because it wasn't written for them. It was written for upper class British children of the 1920s. Modern kids tune it out."
Jennifer Alkove, a parent in Cary, North Carolina, relates a story about reading the original version of The Velveteen Rabbit to her son Parker. "Parker stopped listening to the story about halfway through. Then he started wandering around the room, playing with other toys and singing, and at the same time, there I was - sitting on the bed, reading the story aloud, and crying to myself. Not the best."
That experience is "par for the course" says Jimerson. "Kids are bored, and parents cry - that's the Velveteen Rabbit. It has become a kids' book that's quoted by adults, but almost never read by kids. We want to change that."
The campaign's Kickstarter page states that "at its center, the book reverberates with powerful ideas." One of those ideas is written about by blogger Sterlin Mosley. Mosley writes that The Velveteen Rabbit is a story about "becoming authentic." It is about personal transformation that's only possible when people allow themselves to be "vulnerable and open." Jimerson says that he wants kids "to really hear these big ideas and to grapple with them."
According to the Kickstarter page, Jimerson is adapting the text to be more interactive and engaging, and Juls Sosa is re-illustrating the drawings to make the book as compelling as possible to modern children.
If the project is funded, print, ebook, and audiobook editions will be available through Amazon.
An example of the adapted text can be found here: http://bit.do/realrabbit_text
An online video with the text being read aloud can be found here: http://bit.do/realrabbit_read_to_me
The stated goal of the Kickstarter campaign is to raise $4,000, for items such as the "remaining illustration fees, ... editing fees, ISBN and barcode, copyright registration, [and] website and promotion expenses."
Says Jimerson: "This is not your great-grandmother's Velveteen Rabbit, and kids seem to love it. That, of course, is the real test."
To contribute to this Kickstarter campaign, please visit:
http://bit.do/realrabbit_kickstarter