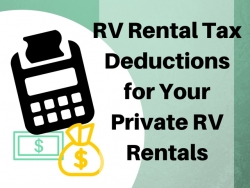 Chico, CA, June 15, 2018 --(
PR.com
)-- RV Rental Connection has launched a new video showing how RV owners and buyers still have
tax deductible options for RV loan interest.
The new 2018 Federal Income Tax laws state that mortgage and loan interest for a 2nd home or RV is no longer tax deductible. What can RV owners and buyers do?
Bonnie Worthington, President and CEO of RV Rental Connection, Inc. narrates an informative, short video describing how RV owners and buyers can make a portion of their RV loan interest tax deductible, even with the new tax laws in effect.
Says Worthington, "The 2018 tax laws changed the ability of home owners and RV owners to deduct the mortgage or loan interest on a second home or RV. However, there is a simple way the owners and buyers might have overlooked that enables them to still deduct a portion of the interest on their RV loan. Our new video explains exactly how."
Worthington goes on to say, "We get calls at our office almost daily asking about tax deductions and commercial insurance for RV rentals, so we consulted a tax professional in our state and with his help, created an informative blog post and video for people to help them understand how they can make a portion of their RV loan interest a tax deduction, despite the new 2018 tax laws."
About RV Rental Connection
RV Rental Connection, Inc. is a Purpose Driven Company with a "calling" far more significant than earning big percentages from its RV Owners' rental income. RV Rental Connection is a Peer-to-Peer RV rental website for individual RV owners and dealers who want to connect with travelers wanting to rent a private RV or RV from a rental fleet. It is a company all about creating value for others, while enriching the lives of RV Owners and RV Renters through every means available. The Company achievements and motivations are measured solely by the smiles and lasting memories they help others create, not by a bottom line.
At RV Rental Connection, the company name is all about what they do: Connecting others in a positive way through RV Rentals.