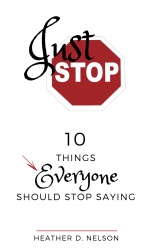 Greenwich, CT, September 18, 2018 --(
PR.com
)-- Heather D. Nelson, already a prolific writer who has published twice this year, makes Fupping.com's Top 12 list of Best Short-Read books with her Debut into the Short-Read genre.
As Taegan Lion of Fupping.com writes, "If you're anything like me, you don't have hours and hours to invest into reading. That's why I love to sit down and read my way through a short, but entertaining and informative book. We gathered together 12 interesting books that are under 100 pages that you can sit down and read in one sitting."
This list has a voting mechanism and Nelson's book has ranked at #1 so far, followed directly by Sun Tzu's Art of War. To see the entire list, click the link below. Heather D. Nelson's Latest book is available on Amazon entitled: "Just Stop: 10 Things Everyone Should Stop Saying."
https://fupping.com/taegan/2018/09/16/12-interesting-books-under-100-pages-you-can-read-in-one-sitting/