Katrina Campins
Principal
Biography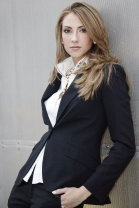 Meet your real estate agent, Katrina Campins.

Your highly respected and accomplished real estate professional earned her real estate license at the age of eighteen. Katrina graduated from the University of Miami with a 4.0 grade point average while majoring in International Finance and Marketing. As a junior in college, Katrina was recruited by the exclusive firm of Wimbish-Riteway Realtors. At the age of twenty, she obtained elite status as a top producer and becomes the youngest member of the Wimbish-Riteway Winners Circle. After Wimbish-Riteway was bought by a national firm, Katrina affiliated herself with Jeanne Baker Realty, becoming the companies #1 Top Producer in her first year.

In 2002 Katrina took a leave of absence from her real estate career to film what would become the hit show The Apprentice- the experience of a lifetime, where she was able to work closely with Donald Trump. Since her success on The Apprentice, Katrina appeared on the covers of People Magazine, US Weekly and Realtor Magazine, where she was featured as one the top thirty under thirty realtors in the nation. She has also been featured in numerous publications including Ocean Drive, Cosmopolitan, Allure, City and Shore and many more. Katrina is a weekly correspondent for ESPN where she has covered events such as the 2004 NFL Draft and the ESPY Awards, and has been featured as the Miami real estate correspondent on CNBC. She is currently hosting Step Inside With Katrina Campins, as informative South Florida real estate show that will provide viewers with real estate tips cover up and coming residential developments and informative interviews.

Discreet, Confidential, Accommodating, Creative, Charming And on tope of Who's Who and What's Where, Katrina's passion continues to be her real estate brokerage career. The Campins Company is designed to provide its clients with the highest level of service and unique residential and commercial investment opportunities.

Despite all of Katrina's accomplishments, what means the most to her is the strong bond he has established with her clients, not just as a realtor, but a friend. Contact Katrina Campins for all your real estate needs.
Phone

786-493-5652

Website

TheCampinsCompany.com

Email

Katrina@TheCampinsCompany.com

Address

Miami, FL
United States