Lori Ballen
Realtor / Owner
Biography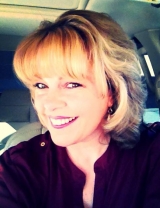 Purpose, Passion and A Plan

Lori Ballen, Author and Presenter on Marketing and Internet Marketing Lori Ballen is a Mega Agent with an award winning real estate team in Las Vegas called The Ballen Group at Keller Williams Realty Las Vegas. Lori and her husband Richard Ballen have owned multiple successful businesses based on her marketing strategy which is now called "The Ballen Method". Lori and Richard now travel and train other business professionals on her methods which include Identifying a Niche, Finding a Target Audience, Creating a Message and a Product and then using Blogging, Press Releases, Social Media, Classified Ads, Video and Fresh, Relevant web site content with Disciplined Consistency in order to dominate the search engines for desired searched keyword strings.

Lori Ballen has become known for her "Keeping it Real" style and approach to Social Media. What you see is what you get with Lori. Passion, Enthusiasm and Energy are what she's about.

Lori is an open book with her experiences, lead generation skills, and business building knowledge. She has no secrets and loves to educate, inspire, and train others. Her recent class include a fully packed house in Orlando with over 1000 attendees where she shared her "Ballen Method" to Lead Generation including her "Ballen Blast" method to Blogs and Classified Ads for page one search engine results.

A mother of 2 daughters, step mother of 2 more daughters, and wife of 20 years, Lori tries to be a role model of strong women for her family.

Lori's Team, The Ballen Group is an award winning team specializing in Distressed properties – specifically Las Vegas Short Sales as well as residential real estate in Las Vegas, North Las Vegas, and Henderson.
Phone

702.463.6400

Website

www.BallenGroupHomes.com/about

Email

lori@loriballenmethod.com

Address

3046 S. Durango Suite 100
Las Vegas, NV 89117
United States