Ameen Khwaja
CEO, Founder
Biography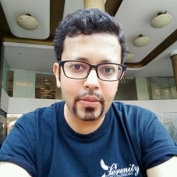 Founder CEO LatestOne.com -

Mr.Ameen Khwaja is the Founder and CEO of LatestOne.com

LatestOne.com is the brain child of Mr.Ameen. He is the visionary behind its remarkably successful journey beginning from its inception, to acheiving Rs.100 cr turnover business; as it exists today, within a short span of 18 months. Consequently, it took a leap by gaining Rs.50 cr investment. The company is growing consistently with 200 employees, 10000 SKUs, two warehouses, and is adding more.

A keen techie, Mr.Ameen Khwaja, is an alumnus of University of East London and graduated as an Electronics Engineer with a Major in Robotics. He started career at the age 20, by working on freelance website development projects. In 2004 he started Premium Web Services with his innovative business idea. Before its merger in 2014, the company has added more than 200 e-commerce websites to its portfolio. Nooridresses.com, DressyCostumes, theflatware and many specially developed e-commerce websites for US markets are a few to quote.

Specializing in digital media and brand building, Mr.Ameen was associated with many organizations during his career. Prior to LatestOne, he worked as digital marketing consultant to several industrial bigwigs such as Qwest, Public Storage, AIG, Kwikfit, Tempcover UK, and Admiral.

Deals15.com was the first Indian e-commerce website introduced by Premium Web Services, which later renamed as LatestOne.com after it was acquired by Palred Technologies. Mr.Ameen's quest for offering good quality and affordable products to the global users is still on. It is apparent with consistent additions being made in LatestOne products and services.

In a span of 15 years of award-winning work in the fields of e-Commerce, Digital Marketing, Social Media marketing, and Search Engine Marketing; Mr.Ameen Khwaja has made a mark for himself and mastered in spearheading the strategic marketing division, and in utilising his skills to build an online community, sales, and brand awareness platform for the products.
Phone

91 40 46659924 ext 124

Website

http://www.latestone.com/

Email

ameen@palred.com

Address

Plot No.2, 8-2-703/2/B
Road No.12, Banjara Hills
Hyderabad, Telangana 500034
India