John Tarpey
Division President and CEO - Washington, D.C.
Biography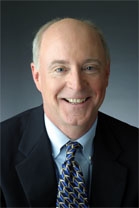 Mr. Tarpey began his career with Balfour Beatty Construction in 1978 working in both estimating and operations. Today, he is a Division President and Chief Executive Officer for the company, responsible for overseeing all public and private projects throughout the Washington, D.C. metro area.

In addition to his role at the division level, Mr. Tarpey is a member of the company's Executive Leadership Team, serving to guide and direct the strategies, future growth, and direction of the entire company.

After his first five years with Balfour Beatty, Mr. Tarpey joined another national general contractor for 11 years, where he advanced to Executive Vice President and Director of Operations. With a proven track record in senior management, he returned to Balfour Beatty Construction in 1996 as Executive Vice President and Chief Operating Officer. In 1997, he was appointed to his current leadership role in the Mid-Atlantic area.

In 2001, Mr. Tarpey received the American Institute of Constructor's highest recognition -- the Walter A. Nashert, Sr., Constructor Award. He was a nominee for Engineering News-Record's "Construction Man of the Year" award in 1993. He serves as an officer for the Virginia Chapter of the Associated Builders and Contractors, the Virginia Tech Building Advisory Board and the Penn State Business Advisory Roundtable. Mr. Tarpey is a frequent speaker and panelist for numerous conferences and seminars on topics including partnering, design-build, company culture, and leadership development.

Mr. Tarpey holds a B.S. in Civil Engineering from the University of Massachusetts and completed the Executive Program at the University of Michigan.
Phone

703-273-3311

Website

balfourbeattyus.com

Address

3924 Pender Drive
Fairfax, VA 22030
United States