Doug Jones
Division President and CEO - Dallas/Fort Worth
Biography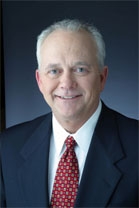 Mr. Jones joined Balfour Beatty Construction in 1981 as a Senior Project Manager. Today, he serves as the company's Division President and Chief Executive Officer for our Dallas/Fort Worth Metro Office. In this role, he is responsible for executive oversight and management of project revenues exceeding $500 million each year.

In addition to his role at the division level, Mr. Jones is a member of the company's Executive Leadership Team, serving to guide and direct the strategies, future growth, and direction of the entire company.

In his 27 years with the company, Mr. Jones has held offices of
increasing levels of responsibility including Vice President, Executive Vice President of operations, and President and CEO of the company's Healthcare Group. He was named to his current leadership role in April 2005.

Mr. Jones holds a B.A. in Building Construction from the University of Florida. He currently serves on the Board of Middle Tennessee Council of Boy Scouts of America and was previously on the Board of the Nashville Health Care Council. He is a member of Associated Builders & Contractors and has served as a second Vice President for the organization.
Phone

214-468-4700

Website

balfourbeattyus.com

Address

3100 McKinnon Street, Seventh Floor
Dallas, TX 75201
United States