Biography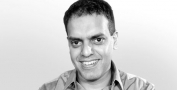 Tiv Ellawala's experience and expertise in a range of financial functions across various industries have prepared him for his role as Chief Financial Officer at Endurance International Group.

Tiv believes small businesses are the engine of the economy and loves how technology and the Internet can help grow them worldwide. It's this passion for small businesses that led him to Endurance.

Tiv's career launched with his navigating the world of mergers and acquisitions at Merrill Lynch in New York, and then in its technology division, in San Francisco. His journey to Endurance then took a 13-year detour to Redmond, WA. While at Microsoft, he focused on strategy, business development and strategic alliances, financial planning, financial controllership and investor relations as well as business operations, ultimately leading to his position as CFO for the Windows Phone Division.

When not propelling the journeys of small businesses across the globe, Tiv is also passionate about other types of journeys, including hiking, biking and driving.
Phone

781-852-3200

Website

www.endurance.com

Email

Press@enduranceinternational.com

Address

10 Corporate Drive
Burlington, MA 01803
United States