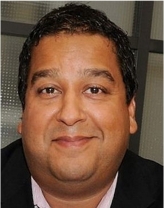 Nick Pahade
Member, Board of Directors
---
Nick Pahade is a pioneer of digital marketing with 20+ years of leadership experience across digital and media agencies as well as ecommerce and technology platforms. He is an advisor to and angel investor of digital media industry startups.

Nick is the CEO of Poptent, a leading social video content community and platform. Poptent provides access to ideas, producers and tools to help brands achieve their video marketing goals.

Prior to Poptent, Nick led U.S. and Canadian operations as President and CEO of Initiative North America, one of the Interpublic Group's two worldwide media networks. Before that, Nick worked as CEO of digital media management platform Traffiq, a company that provides media buyers and vendors with a single trading, planning and optimization platform. Nick has also served as President of TrueAction, President of Denuo and Managing Director of Mediacom Digital. In addition, Nick co-founded Beyond Interactive Inc., which he sold to Grey Global Group/WPP.