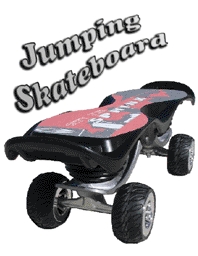 ONYX Sales & Distribution, LLC is a wholesale provider of novelty goods since 2003. The first product starting the lineup was the Jumping Skateboard, which is featured on the website www.jumpingskateboard.com

The Jumping Skateboard isn't your traditional skateboard, this board not only takes you to new heights with the shock absorption system, but also it allows you to ride terrain with extra wide, large rubber wheels. This versatile board is suitable for the tried and true tricks on the asphalt, ramps and stairs as well as to blaze new trails off-road. Finally a board that is as tough as you are with heavy duty high impact deck and die-cast aluminum construction leaf and spring suspension with extra strong trucks, taking you everywhere you want to go in style. It goes up curbs, off curbs, on the road, off the road, on grass, off loading ramps, down hills or stairs, the jumping skateboard is built to take you everywhere.

It was launched by Rick Dees on his morning radio show on KIIS FM. Soon afterward in February 2004, ONYX showed the Jumping Skateboard at the American International Toy Fair in New York City.

During the TIA Toy Fair exhibit several key video airings occured, the local FOX News station featured the Jumping Skateboard on the evening news, CBS showed during UP To The Minute, Digital Dan's Gizmorama shared the Jumping Skateboard as an alternative outdoor toy and a few weeks later it was shown on NBC during the Tonight Show with Jay Leno.

In August 2004, right before the Summer X-Games, ESPN's morning variety/news show Cold Pizza featured the Jumping Skateboard as part of Gizmo Girl Jamie Sorcher's Extreme Gadgets segment. After riding and jumping on the board host Jay Crawford said "I can impress even my kids with this ..., that's my favorite!"

In November 2004, Creative Child Magazine chose the Jumping Skateboard as a 2004 winner of the Preferred Choice Award for the Outdoor Play Category.

Onyx once again went to the TIA Toy Fair in February 2005 and from that show Buck Wolf from ABC News shared that the Jumping Skateboard ranked #4 in his Weird Toys for Christmas stating "Do you feel a heart attack coming on each time Junior attempts to take an entire flight of stairs on a skateboard? If that daredevil can't be stopped, at least with the Jumping Skateboard he's got a fighting chance to survive with minor injuries. How many other skateboards can go off road, even through grass? The wheels on this $99 sidewalk surfer look like they belong on a mini-SUV, and the suspension is so springy, you can stand on the board and jump several inches off the ground, as if you're on a Pogo Stick."

Onyx offers several other specialty and novelty items which can be found on our products webpage.
Status

Private Company

Founded

2003