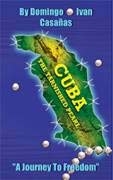 Finally a book on cuba that gives you the great insights. CUBA THE TARNISHED PEARL has been in the making for 30 years. My Father who passed away in 1976 had kept a journal about events in Cuba, including history, Castro, Che, Batista, Bay of Pig Invasion, Missile Crisis and much more.

My father handed me his journal and memoirs in 1975 and made one simple request: To have me write a book from his journal and my writing skills 30 years after his death. I am about six months early because I wanted it to be in time for Fathers Day.

American Success Marketing a sole propriotorship will be the marketing arm for CUBA THE TARNISHED PEARL.
Status

Private Company
Company History
American Success Marketing is new in the marketing arena. However, with a first class product and services, and possibly many more products in the future ASM will definately become a marketing company with many possibilities.