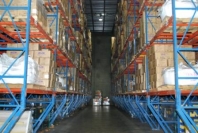 Moran Distribution Centers provide Public Warehousing in Chicago and Contract Warehousing in Chicago and the greater Chicago area. Additionally, we serve our clients National and International needs through our network of partners. Moran Distribution stands ready to serve your needs with over 500,000 square feet of dry storage and warehouse space.
Moran Distribution Centers is the leader in innovative and cost effective public warehousing, contract warehousing and distribution programs.
We offer a full range of Public Warehousing and Contract Warehousing services in Chicago and the surrounding area, throughout Illinois and the midwest (midwestern United States) including:
Public & Contract Warehousing
Computerized Inventory Management
Pool Distribution
Freight consolidation
Pick N Pack/Fulfillment
Rack and Bulk Storage
Kitting Services
Container unloading and palletizing
Packaging and Assembly
Parcel Distribution
Order Fulfillment
Our dedicated staff of experts stand ready to serve your public and contract warehousing needs in the Chicago area, the midwest , the United States and Internationally. visit us at
www.publicwarehousingchicago.com
.
'