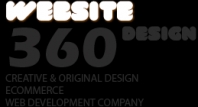 Search for a Website Designing Company in Delhi or a Website Designing Company in Mumbai and you will reach 360 Website Design.

360 Website Design is one of the finest E Commerce Website Designing and development company based in India. However, the company serves clients from across the globe.

Company started its operations in the year 2008 and since then has been moving fast on the growth trajectory. Company employs over 100 experienced staff members in design, development, QA and customer service.
Status

Private Company

Founded

2007
Company History
EMarketz India Pvt Ltd is the best SEO Company in Delhi. Company offers top notch seo and web designing services. Through 360websitedesign, EMarketz has now spearheaded to become India's most preferred E Commerce Website Designing Company.

Established in the year 2007 and with offices in Delhi and Mumbai, EMarketz offers range of web solutions and services.