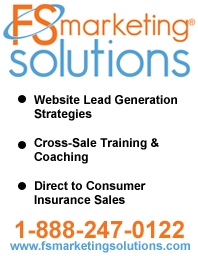 FS Marketing Solutions provides complete financial services marketing for leading edge Property & Casualty Agencies interested in expanding their capabilities by offering a broad range of integrated financial services solutions for their current and prospective personal and commercial lines clients.
At FS Marketing Solutions we understand the current challenges and opportunities owners of P&C Agencies face in today's quickly evolving insurance marketplace and competitive landscape. Being able to effectively deliver additional financial products and services to your clients can be one of the most cost effective ways to meaningfully grow and diversify your revenue base, increase client retention & satisfaction, differentiate your brand, and potentially increase the overall value of your firm.
Our comprehensive, turnkey financial services marketing & business development resources include both traditional and social media marketing programs - including facebook, twitter, LinkedIn, blog posts, internet based lead generation strategies, firm branded marketing collateral, website consultation services, financial services cross-sale training programs, leadership development and coaching programs, and much more.
Specialties
Consumer Insurance Quoting Engine, Social Media Marketing Programs, Internet Lead Generation, Video Marketing, Financial Services Cross-Sale Programs, Website Consultation Services, email Marketing