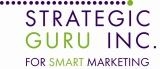 We're different from our competition. Here's why:We leave nothing to chance. Our strategic marketing plans are full scope and employ multiple tactics over time to create brand impression and stimulate inquiry.
No one solution fits all clients. Your business is unique and it's our job to communicate that. We make every effort to work within your budget—and within your time frame—to carve out your unique corner on the market.
We work with a wide variety of businesses. We've made an art of being a quick study, first as students of your business and products, then as experts guiding you to your goals. Whether we're creating the brand, supporting sales or launching something new, we make it our job to understand your industry.
For a complimentary consultation or more information, call 919.461.0551 or visit www.strategicguru.com.