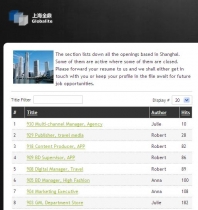 Globalite Executive Search is headquartered in Shanghai with coverage to the whole Greater China region. The board members all have had many years of experience in technology, management and recruiting services. The Local leadership team consist of senior managers and directors from many multi-national corporations. We position ourselves as a boutique executive search firm that is unique in the aspect of searching technique, talent evaluation, customer care, practical industry knowledge and head-hunting experience.
We are keen to establish a genuine and long-term partnership with our clients. Most of the clients have been with Globalite Executive Search for years regardless of the up & down of the economy. We treasure and pursue high quality services and work efficiency as quality in our belief is the standard that defines our lives.
Based on our industry experience, we selectively focus in the fields of FMCG, luxury, IT, internet/eCommerce, advertising, interactive marketing, electric, public relationship, real estate, retail & shopping mall, covering the functions of Sales & Marketing, Brand/ Product/ Category Management, Account Service, Media, Design, Development, Creative, Planning, Human Resource, Finance and General Management.
Successful placements of Globalite Executive Search are mainly in the major cities of Greater China, i.e. Beijing, Shanghai, Taipei, Guangzhou, Qingdao, Hangzhou, Chengdu, Shenyang, etc.
Keywords to find us:
Executive Search China
Executive Search Shanghai
Executive Search Beijing
Executive Search Guangzhou
Executive Search Chengdu
Executive Search Taiwan
Headhunter China
Headhunter Shanghai
Headhunter Beijing
Headhunter Guangzhou
Headhunter Chengdu
Headhunter Taiwan