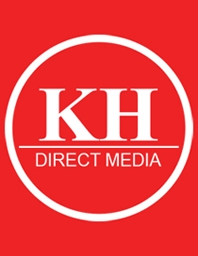 KH Direct Media was born from the merging of two television powerhouses in their respective specialties, Kevin Harrington and Paul Scott.
Harrington, the inventor of the infomercial, founder of the As Seen on TV empire and one of the original sharks on ABC's Shark Tank, is one of the most successful entrepreneurs ever. He's worked with some of the world's biggest celebrities and launched some of the best selling DRTV campaigns in history. In 2012, Kevin was awarded the Lifetime Achievement Award at the Moxie Gala. This Award, which is not given out every year, is presented to a deserving member whose work has had a visible impact on the industry and has been acknowledged as doing so by other colleagues in the industry and the public at large. Kevin Harrington joined past honorees: Katie Williams, Billy Mays, Earl Greenburg, Rob Woodrooffe, Tim Hawthorne, Greg Renker, Joe Segal, Suzanne Somers, Mike Levey and Ron Popeil. Now, his newest venture, KH Direct Media, gives him the platform to blanket the globe, looking for the best products and ideas to reach television audiences. Partnering with KH Direct Media means Kevin Harrington himself will give a personal product evaluation, lending a proven 'golden touch' to improve ROI and increase sales.
Supplying the strength behind this broadcast platform is Paul Scott, known by his peers as a visionary in television, film and new media. Scott oversees a staff of producers, writers, videographers and editors at KH Direct Media, making these spots come to life. From over 25,000 square feet of a state-of-the-art studio in South Florida, Scott and his team handle every aspect of production, from script to screen to airing. Responsible for over $20 million in television placements over a two decade career, they have the national and regional relationships needed to generate the greatest impact. The production team at KH Direct Media has been honored with over 50 Telly Awards and has a list of hundreds of prestigious clients.