Moran Transportation Corporation provides regional less than truck load (LTL) and regional less than container load (LCL) service throughout the states of Illinois, Indiana, Wisconsin, Minnesota, Iowa, and Missouri markets. Our team of uniformed professional LTL driver salesmen provide very timely and claim free LTL & LCL service to all industries.

Our organization is a service driven team that focuses on providing exceptional service, a consistently flexible LTL operation, and pinpoint delivery accuracy! By operating a clean modern fleet of equipment, we allow our team to provide each of our less than truck load (LTL) customers with exceptional service including value added service such as lift gate, inside pick up or delivery, residential, time definite, guarantee delivery, or any special request.

Our superior technology allows us to manage the individual needs and special requests of all of our shippers and consignees to insure that we meet each of their individual requirements, value added requirements, and special requests.
Status

Private Company

Founded

1980

# Employees

400
Company History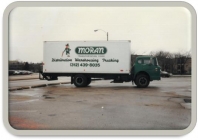 In March of 1980, we purchased the assets of a small, struggling cartage company in Elk Grove Village, Illinois called UVS Motor Freight. The tiny company had 5 old trucks of various sizes and a staff of 5 drivers and office staff. The original team of 5 provided local 30 mile radius cartage within the Chicago Commercial market. By June of 1985, the company had grown three fold and we were able to buy our first new trucks which were two 1985 Ford C8000 straight trucks. At the same time the company was re-branded under the current name Moran Transportation Corporation and our new green trucks and Leprechaun logo were installed on the first of many new trucks to be ordered.

Over the course of 12 years Moran Transportation Corporation would continue to grow and relocate four times into larger facilities within the Elk Grove Village & Chicago market. The LTL team continued to grow and expand and in 1993, we opened up Moran Distribution Centers Inc. as our warehouse and fulfillment division. Throughout the 1990's the operation continued to expand and grow into new markets within the Midwest including the expansion of a new terminals throughout the Midwest.

Both the LTL/LCL & Chicago warehouse operations continued to grow and prosper as we focused on providing each customer with exceptional services. In fall of 2012, the Moran team opened a new 90 door Midwestern LTL/LCL sort facility in Elk Grove Village, Illinois (Chicago) which became the new Corporate Headquarters and epicenter for our Midwestern LTL/LCL operations. Our team continues to grow and invest in new technology, state of the art equipment, larger facilities, & additional markets to help our customer grow their business.