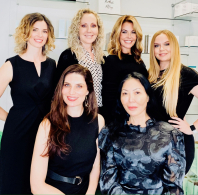 As we enter the 4th year, Renew Aesthetic Clinic continues our mission of providing our clients expertly delivered, safe, and customized aesthetic procedures using state of the art technology in a serene and welcoming space. Renew's team consists of highly educated and trained professionals who are passionate about aesthetic medicine. Our expertise is in offering a non-surgical versatile approach that is mindful of the unique needs of each client. We firmly believe that combination therapy of injectables, lasers, and regenerative treatments delivers the best aesthetic results that are age defying and beauty enhancing while preserving you in an elegant way. Our attention to detail and vast array of services that can be tailor made is what sets us apart and brings clients back into our clinic time and time again. We aim for you to feel Renewed, Refreshed, and Regenerated. Our style has attracted the Renew's RAVING FANS and regular visitors for the last three years.
|Renew's Growing Professional Team | Growing Service Menu | Annual Membership |
Top Row From Left: Jess, Robyn, Chelsea, and Savanna.
First Row From Left: Samantha and Yan