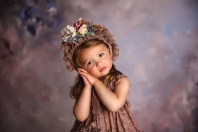 HSD Backdrops (www.hsdbackdrops.com) is a photography backdrop company, est. in 2014, which offers exclusive, high quality photo backgrounds. Some of the backdrop materials they carry are poly paper, canvas, fabric and vinyl. They offer a large variety of themes, including birthday cake smash, fine art and faux wood floors. Seasonal and holiday themes include winter, fall, spring, Christmas, Easter and Valentine's Day.

The company originally launched in 2011, under Hazy Skies Designs, offering Photoshop templates for photographers. In 2014 they expanded, opening HSD Backdrops, and started offering unique photo backdrops for studio photographers. Soon after launching HSD Backdrops, they realized there was a high demand for their products. They moved into a larger warehouse, which they spent over a year renovating. After renovations were finished, the company had the room they needed to grow. New materials and larger sizes were introduced soon after the renovation.

The company experienced quick growth, due to the popularity of Hazy Skies Designs, which has very large, loyal fan base. HSD Backdrops is now one of the leading photography backdrop companies located in the United States. They take pride in being a family owned and operated business, which offers friendly service and a quick turnaround time.
Status

Private Company

Founded

2014