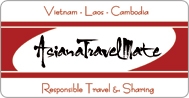 OUR VISION
The Most Cutting Edge and Local Friendly Travel Management Company in Asia

OUR MISSION STATEMENT
Community & Responsibility in Every Travel Idea and Action.

CORE VALUES

We are a local business, we understand our Cultures and Places well
We act with Integrity
We are here for you and share our travel passion
We are innovative and spirited
We have changed ourselves and we will help to change local people's lives
We are caring and socially and environmentally responsibly

Our Tailor-made Itineraries
We have been organizing customized tours in the region since 2006. The wealth of options featured on our website is just a taste of what we can do. All of our tours are fully customized to suit your needs.

As a specialty Indochina tour operator, we are able to offer a great deal more to our customers. We approach even the most well known sights from a fresh angle with our in-depth knowledge. By complementing the more famous destinations with the less "traveled to" sights, we believe we can give you a more authentic experience.

Cutting Edge nicely on Prices
Asiana Travel Mate has strong purchasing power in Vietnam, Laos and Cambodia, thus we are able to negotiate substantial discounts from travel suppliers, offering you the best value for your money on your trip due to our large network of branches and tourist information centers.

Our Quality Assurance
We book accommodations appropriate to the type of tour selected and the clients' preferences - from standard 3 star hotels to 5 star luxury beach resorts. Whatever the selected standard of accommodation, we use the best at that level and conduct periodic inspections to ensure quality.

Most of our trips are run in a luxury "backpacking" style, the emphasis being on adventurous comfort. We positively encourage independent exploration while ensuring time is used safely and economically – we take care of the details and the hassle, allowing you to get on with your adventure.

We are doing well with personalized services - all service inquiries are carefully, responsibly designed and operated by every Sales person and Operator. Who take care and assist our customers, before, during and after their holidays.

Our People
As we live in Indochina, we know all about the products we sell. This knowledge ensures that you book a trip that is right for you.

All our guides are locally employed, received excellent training and speak your language who know all destinations, history and culture inside and out. They offer friendly and efficient service at every state of your journey.

Our Promise of Safety
We constantly monitor the region in case any problems should arise and all our guides receive international first aid training. We also require that all Asiana Travel Mate' clients have adequate medical and travel insurance before participating in our tour programs.

Responsible Travel & Sharing
Asiana Travel Mate promotes and practices the ethic of responsible travel and sharing. We work hard to empower local communities and ensure that both they and our clients benefit from our tours. We also offer you the opportunity to spend a little time meeting and helping the people who are benefiting from your holiday.

Our Reputation
Our industry and consumer awards are testimony to our excellent reputation and experienced professionals in the region.

Asiana Travel Mate Receives:
1. The Guide Awards 2010 - 2011 " The Leading Tour Operator with Personal Service" by Vietnam Economic Times.
2. The Guide Awards 2009-2010 for "The Year's Best for Excellent Tour Operator" by Vietnam Economic Times.
3. Trusted Brand 2009 - 2010 2011 by Viet Nam Business Association
4. Golden cup for Excellent Service in 2009 – with theme for Community development and health.
5. Golden cup for Excellent Business in 2009 - with theme for Community development and health.
https://www.asiatravelmates.com
Status

Private Company

Founded

2006
Company History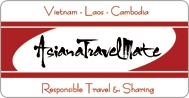 HISTORY OF ASIANA TRAVEL MATE

"A three-fold cord is not quickly broken"

The wisdom of the combined strength of three cords is a universal theme reflected in the folklore of many nations and cultures. The three fold bond represents the principles of harmony and balance in a world of duality. In early 2006, Nguyen Dinh An (Andy), Nguyen Ngoc Quyet and Bui Van Chi, decided to pool their experiences, skills and resources to establish a new and unique travel and tour company; Asiana Travel Mate.

Vietnam's tourism industry had been growing at an unprecedented rate, from just half a million visitors in 1993 to 4.5 million visitors by the year 2008, reflecting Vietnam's growing popularity as a destination of choice in the Asia Pacific. However, much of its growth was relatively uncontrolled with many small players acting as agents rather than operators which often left a negative gap in customer expectations of the delivery of services promised. In this scenario, the founders were determined to build a credible company committed to the principles of responsible travel and a culture of sharing.

Andy says, "Responsible travel is about traveling and operating in a way that addresses our concerns for the environmental, cultural and social impacts of tourism: to retain the integrity of sensitive ecosystems, to maintain the traditions and natural character of communities our travelers interact with and generally to preserve the natural and cultural heritage for which visitors come to Vietnam, besides our responsibility to leave a positive legacy for future generations."

Chi adds, "We endeavor to benefit both travelers and local communities in a sustainable manner which has been our commitment since the company's inception. Today, in the face of global environmental degradation, social and economic upheaval and transitions, our commitment is stronger than ever. We have developed a clear set of criteria and practices from the grassroots up to demonstrate our corporate and personal ethic of responsible travel and of sharing the benefits of tourism with local communities. We expect that our travelers will share this ethic with us."

Quyet adds another dimension to the ethic of responsible travel and sharing; "Internally, our responsibility extends to our relationships with our staff, strategic partners, suppliers and vendors... to empower them to grow with us with an equitable share of the rewards, towards a common vision and ultimately to mutually deliver our promises to our customers consistently."

In 2006, Asiana Travel Mate's first office was set up in the bustling tourist centre of Ho Chi Minh City. In that year, Vietnam recorded 3.8 million tourist arrivals and the company quickly began securing a significant market share based on the quality of its customized services and commitment to its travelers. In (year) the company extended its reach with an office in the capital city of Hanoi that spurred its growth further.

In 2009, despite the global recession, the travel and tourism industry contributed an estimated 13% of the GDP to the Vietnamese economy. However its impact on the tourism industry weeded out many travel and tour operators while Asiana Travel Mate maintained its revenue levels in-spite of a drop in the number of travelers. Quyet says of the global crisis "A time of crisis brightens people and companies of true integrity, capabilities and values while it exposes & terminates those to the contrary."

The company recognized opportunities to consolidate and even expand its operations and quickly adapted its strategies in the face of the cumulative effects of the global recession. Inflation hovered at 30% and increased fuel prices resulted in higher operational costs but hotels were promoting reduced rates that would benefit independent travelers; the core of Asiana's Travel Mate's customer base.

The company also acquired control of two premier cruise ships in Halong Bay, the Valentine and the Calypso and formed strategic partnerships to improve the quality of its services, logistical and cost efficiencies. An office was opened in the Hue, Central Vietnam as well as in Laos and Cambodia, extending the company's presence beyond Vietnam.

Firmly built on the foundation of a commitment to responsible travel and a culture of sharing, besides the leverage of its substantial customer base and solid financial standing, the company has built its capacity to operate throughout Indochina with a diverse range of customized itineraries, routes and destinations. Asiana Travel Mate enjoys the endorsements of its travelers and has handled over 40,000 travelers since its inception. With Vietnam's travel and tourism sector projected to have the world's sixth-highest growth rate in the next decade, Asiana Travel Mate is poised to offer its travelers even better value for money, quality of services and facilities in customized, personalized tours throughout Indochina ... in the spirit of responsible travel and the culture of sharing.

THE FOUNDERS OF ASIANA TRAVEL MATE
Nguyen Dinh An (Andy), based in Hue, Central Vietnam.
andy@asianatravelmate.com

Nguyen Dinh An (1972) is the father of six children with the distinction of having both twin sons and daughters. He lives with his family in the ancient citadel city of Hue. Andy, as he is also known, was born in the village of Tiên Điền in Hà Tĩnh province on the north central coast. The village is nestled deep in the literary heart of Vietnam, the home of the celebrated 18th century poet Nguyễn Du, author of the epic poem, The Tale of Kiều.

Andy began his career in the tourism industry in the mid-nineties. In 1998, he guided Martin and Annie Coudeville from Oostende, Belgium on their first visit to Vietnam. It was the beginning of an ongoing relationship that changed his life, giving him direction and opportunities he otherwise might never have had.

Andy's integrity, competence and natural qualities of leadership soon brought him into the ranks of management in some of the industry's leading companies. In 2006, tempered by a decade of experience, Andy, together with his friends Chi and Quyet, founded Asiana Travel Mate, establishing the fledgling company's first office in Ho Chi Minh City that year. Bonded by a common vision of a company that would deliver on it's promises and operate in a responsible manner, the trio formulated the principle of "Responsible Travel and Sharing", with customized inbound travel and personalized services as the cornerstone of its operations. Asiana Travel Mate's clientele base soon began to grow beyond expectations.

Andy is an intrepid photographer and is personally committed to the ideals of social responsibility, expressed through community outreach initiatives, now embedded as part of the company's operations. He is gifted with a knack for strategic marketing initiatives and his visionary, egalitarian style of management has engendered a well motivated and competent work force that has vitalized the company's growth and direction.

"I believe in making things possible."
Quote: Nguyen Dinh An

Nguyen Ngoc Quyet, based in Saigon, Southern Vietnam.
quyet@asianatravelmate.com

Nguyen Ngoc Quyet (1977) was born in the northern countryside of Hà Tây, one of Vietnam's cultural repositories to the west of Hanoi in the Red River Delta. The region's famous sites includes Vietnam's venerated cave temple, the Perfume Pagoda. Quyet is a graduate of the Columbia Southern University, Saigon, with an MBA in Hospitality and Tourism Management. He now lives with his wife and daughter in the southern, commercial hub of Ho Chi Minh City.

Quyet 's deep passion for his homeland and his penchant for travel, led him to join Andy and Chi to establish Asiana Travel Mate. Analytically inclined, he keeps an objective pulse on the company's performance, monitoring and guiding the company's development through the use of information technology and computerized database systems.

Quyet's consistent and objective approach is balanced by his warm, friendly personality and genuine concern for the welfare of the company's employees and its commitment to the indirect stakeholders of the tourism industry; the local communities.

Bui Van Chi, based in Hanoi, Northern Vietnam.
han-office@asianatravelmate.com

Bui Van Chi (1977) was born in Nghệ An, the home province of Hồ Chí Minh in the north central coast of Vietnam. He majored in English and French at the University of Foreign Studies and in International Business Administration at the University of Economics in Hanoi where he now lives with his wife and daughter.

Prior to the founding of Asiana Travel Mate in 2006, Chi traveled extensively throughout the northern territories of Vietnam as a tour guide, leading classic and adventure tours. These included kayaking, cycling and trekking, activities and special assignments for film crews as well as location surveys. He later extended his travel into Laos and Cambodia as a tour leader. In the course of his early career, Chi had worked with Andy and their common experiences led to a convergent outlook and shared vision for the founding of Asiana Travel Mate.

Chi has a talent for logistics management with a pragmatic and candid approach to operational concerns, keeping the company's tour operations on an even keel, in close liaison with the marketing team to deliver the scope and quality of services promised. His even tempered character and professionalism is an inspiration to staff based in Hanoi where the company has realized significant growth since it opened it's offices in the capital city.