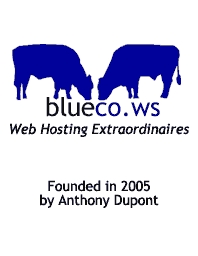 My name is Anthony Dupont and I founded BlueCo Web Site Hosting in 2005 because I found there was a lack of safe, reliable web hosting companies out there. Many hosting companies will try to give you more than you need by offering rediculous amounts of storage space or monthly transfer only because they know you will never use it. My goal was to make BlueCo the best all-around web host for your money.
I started off with only 1 web hosting plan and I intend to keep it this way. I'm a web designer and I've made many sites over the years, and I know what it takes to host a web site. If you make just one plan that will suit just about any site, why bother with extra features to clutter and confuse?
The company history is short, but I know the company future will be long and prosperous.
http://www.blueco.ws/about_blueco.html