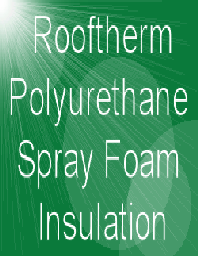 UK based national specialist installers of British Standard class 1 and 0 polyurethane insulation foams for roof stabilisation and bonding, roof insulation, thermal insulation and anti-condensation coatings.
Specilaist polyurethane spray foam solutions, roof renovation, thermal insulation, roof insulation, sound proofing, roof stabilisation, anti-condensation coatings, pitched roof insulation, flat roof insulation, wall insulation, underfloor insulation, asbestos encapsulation, industrial freezers, ship and boat hulls insulation, soundproofing, loft conversion insulation, industrial roof foam and coated, silicon rubber roof coatings.
Rooftherm provide national roofing insulation services. Whatever the roof, whatever the insulation requirement we can provide a lower cost alternative for all roofing and insulation solutions.