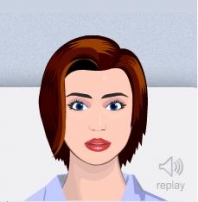 Animated Talking Characters for your Website!
Complete Technologies, a Colorado Springs Company would like to introduce
you to a new service that would be a great value to your customers. With
this service you could offer a personal sales representative to assist in
the selling process of each and every listing on your site. This would
require no changes to your current web application or database. The life
like sales representative would introduce the listing in detail to every
potential buyer, stating all pertinent information about the listing, plus
other specific information to enhance the sale.
Utilizing our advanced text to speech, Character generating system, the
sales representative would be generated on the fly, communicating to your
potential customers in real time about specific information pertaining to
each listing, with no interaction on the part of your company and staff.
This is not pre-programmed information, but rather dynamically generated
from the information stored in your current database about that particular
listing. Every new listing gets a unique, auto-generated sales
presentation available immediately after posting to your web site.
It has been proven that just audio alone can increase your sales by as
much as 300%, and with the technology of our service, which combines audio
with a visual sales representative, actually speaking the words, this has
even more potential to increase your sales.
Visit our website for more information. www.speechagents.com/ml
P.S. Imagine having a personal Sales Representative talking specifically
about each listing on your site.
Please contact us to view a working online demonstration of our service.
Here is a sample of what we are working on for Autotrader.com and
Carsdirect.com
http://com-plete.com/server/samples/at/
http://com-plete.com/server/samples/carsdirect
We are also working on some exciting intelligent bots to help answer
specific questions from your customers.
www.speechagents.com/alice
Michael W. Bardi
COMplete Technologies
Account Manager
719-640-3252
www.speechagents.com/ml
sales@speechagents.com