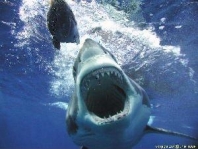 Shark Diving International, in association with Great White Adventures and Golden Gate Expeditions, offers the world's best shark encounters and shark-diving expeditions to adventurous travelers, wildlife lovers and scuba divers across the globe since 1998. Visit us online at www.seesharks.com and www.greatwhiteadventures.com for more information.
Shark Diving International brings you up-close & personal with Great Whites, Hammerheads, Tiger and Whale sharks, and Giant Manta Rays. Plus, join us for what some dive professsionals call the "most exciting dive in the world" during the world-famous Sardine Run.
We only visit the world's best destinations at the best times of year to maximize your opportunities to observe these magnificient and rare animals in their natural habitats. And, if we sell it - we do it. Our experienced and professional staff has first-hand experience at every destination. Travel with us to Fiji, Isla Guadalupe, Farallon Islands, Cocos Islands, Bahamas, Galapagos Islands, Socorro and South Africa for your ultimate big-animal encounter.
Safety and conservation is paramount at all times on every trip. We are extremely proud to have the best safety record of any shark diving operator in America, with no injury to any person or shark - ever. We adhere to strict safety guidelines and absolutely prohibit any molestation or harassment of the animals.
We have hosted and worked with many of the leaders in marine science and research, such as; Scripps Research Institute, Harbor Branch Oceanographic Institute, Pier Phleger Institute of Environmental Research, Shark Research Institute, Pew Oceans Commission, The Galapagos National Park Marine Reserve, Project Aware, University of California Davis, and the top underwater photographers and videographers in the field.
You have seen us featured on national and international television networks such as; BBC, Discovery Channel, National Geographic Channel and OLN. Our film credits include IMAX Sharks 3-D (3D Entertainment) and The Adventures of Sharkboy and Lavagirl 3-D (Troublemaker Studios). We also been featured in many print publications including; Stuff, Esquire (UK), The Boston Globe, The Los Angeles Times, San Francisco Chronicle, Reader's Digest, Rodale's Scuba Diving and Budget Travel.
International corporate headquarters is located in the San Francisco Bay area in Alameda, California and is open Monday - Friday, 9:00 AM to 5:00 PM (PT). Phone lines are open Monday - Friday, 7:00 AM to 7:00 PM (PT).