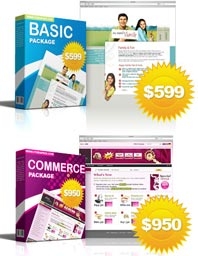 IT Graphix is an affordable web design and graphic design company operating from Thailand. The company focuses on cost-effective custom web design for small businesses. We, at IT Graphix, understand that acquiring a website design to fit your requirement and budget can be a daunting task. Probably you are not sure where to start looking for one and whom to approach. When we started business in a small way, we also experienced the same bewilderment, which was overcome with hard work and determination to reach this position as a leading web designing company in Thailand.

Our own experience led us to explore possibilities on how to make it simple and affordable for start up companies like us. We will speak your language and explain design options in a simple and honest manner from the outset.

What makes us an excellent, yet affordable web design company?

• Excellent skill set with thorough working knowledge of latest website design technologies
• Creative and flexible ideas that are viable and an in-depth knowledge of online marketing
• Proven track record with a vast web design portfolio and solid reputation within the industry
• Strong long term relationship with clients founded on trust and honesty
• Simple, jargon-free communication
• On time delivery
• Provides realistic expectations to meet your requirements at affordable prices

Our services at affordable price
• Custom Website Design
• Affordable Basic Web Package for every budget
• E-Commerce setup, including customized shopping cart
• Corporate Branding
• Graphic designs for your website
• Logo & Brochure design
• Yearly web hosting at a very competitive rate

To learn more about our affordable web design services, e-mail us @ info@itgraphix.com or call us at +66 77 230 800 or +66 8 987 42083, 9 am to 5:30 pm, GMT, Monday-Friday.
Status

Private Company

Founded

2002

# Employees

6