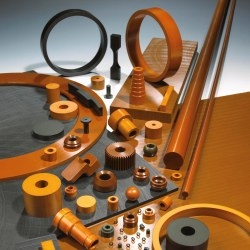 Fullerton, CA, August 24, 2006 --(
PR.com
)-- Professional Plastics, the nation's largest supplier of high-perfromance engineering plastics, has been appointed as a Master Distributor of Meldin 7000 series polyimide shapes from St Gobian. Meldin 7000­ series features operational temperatures of 600ºF for continuous operation and 900ºF for intermittent exposure, and tight tolerances of ±0.001 in. on both ODs and IDs. Meldin is currently available in two standard grades: Meldin 7001, and meldin 7021.
MELDIN® 7001, unfilled grade is a thermosetting polyimide made from the unfilled base resin. This grade offers the maximum mechanical properties and high chemical resistance. The MELDIN® 7001 grade is ideal for electrical and thermal insulating applications. More ductile than ceramics, and lighter weight than metals, MELDIN® 7001 is a popular choice for structural parts in aerospace and other applications where metal replacement is desirable.
MELDIN® 7021, 15% by Weight Graphite Filler is a self-lubricating grade, which contains 15% by weight graphite fillers, encapsulated by the base polyimide resin. With its low coefficient of friction and high heat resistance, MELDIN® 7021 provides our customers the best all-around choice for high temperature bearings, seals, and other low-wear applications.
The Meldin 7001 grade is suitable for high-temperature structural, high-purity semiconductor, and welding component applications while Meldin 7021 grade is efficient in stable, low-weight bearing and guideway applications. Both products are finding wide acceptance as economical replacement materials for Vespel® SP-1 & Vespel® SP-21.
For more information on these or other products available from Professional Plastics, call (800) 966-7767 or visit
www.professionalplastics.com
. Requests for pricing and availability can also be made by e-mail to sales@proplas.com
###