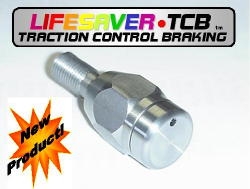 Centerville, MN, January 25, 2007 --(
PR.com
)-- MBJ Technologies is the manufacturer of Lifesaver - TCB (Traction Control Braking). Lifesaver - TCB is a revolutionary new product that provides controlled and predictable braking for virtually all makes and models of powersport vehicles. Lifesaver - TCB, the world's first "Bolt-On" Traction Control Brake System. The Lifesaver - TCB uses a patented "Gas Charged Accumulator Action" to help prevent wheel lock from happening.
Please visit www.lifesavertcb.com for more product information.
Operated by Butch Whittington and Brian Cornelius, Paragon Powersports provides sales, marketing, consulting, and representation for Baja Designs, Fluidyne, High Roller, KG Clutch Factory, ITP, Quad Works, Sunstar, and Tsubaki.
For more information, phone Butch at 623-386-8266 or Brian at 951-698-7991.
###