The Contract Manufacturing Site Debuts at www.theContractManufacturingSite.com
New Website Offers the Latest Contract Manufacturing News, Articles, Industry Information and Other Outsourced Manufacturing Resources.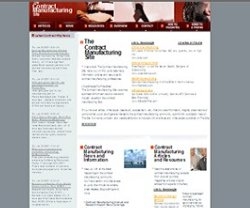 Blacksburg, VA, January 26, 2007 --(
PR.com
)-- Scott Technology Group, Inc., today announced the addition of The Contract Manufacturing Site (www.theContractManufacturingSite.com) to its family of industrial online media websites. The site makes available a wide array of resources and information allowing manufacturers quick access to all of the latest developments in the contract manufacturing field.
Contract Manufacturing Market
A contract manufacturer is a business that manufactures individual components or complete products for another company. Many industries take advantage of this approach, particularly the computer, semiconductor, aerospace, defense, personal care, energy, medical and automotive fields.
Related services include:
• Electronic Contract Manufacturing (ECM): firms that contract for the electronic assembly for another company.
• Electronic Manufacturing Services (EMS): companies that handle the design, testing, manufacturing, distribution and also provide return & repair services for electronic components as well as assemblies for Original Equipment Manufacturers (OEMs).
• Original Design Manufacturer (ODM): companies that manufacture a product that eventually is to be branded for sale by another firm.
Website Details
The continuously updated resources now accessible on The Contract Manufacturing Site include:
• Articles and Research Reports: Current articles on contract manufacturing subjects from popular trade magazines and industry journals along with original articles from experts in the field. Access to the latest contract manufacturing benchmark and best practices articles.
• News Items and Blog Highlights: Up-to-the-minute contract manufacturing news stories, press releases, Blog postings and more.
• Resource Links and Custom Google Search: Many additional contract manufacturing resource links are also available on the site, along with a specialized Custom Google Search option that focuses internet searches across the leading contract manufacturing websites.
User Submissions
The Contract Manufacturing Site welcomes submissions from service providers and experts in the field. Submissions of articles, case studies, success stories, white papers, etc., that provide insights, information, observations or opinions that would be of general interest to the contract manufacturing community are invited. All submissions accepted for publication on The Contract Manufacturing Site include full name, company and website attribution.
For more information about The Contract Manufacturing Site, please visit:
www.theContractManufacturingSite.com
About Scott Technology Group
Scott Technology Group (STG, www.scotttechgroup.com) is a leading business-technology information and services company. STG's online media include websites that provide up-to-the-minute news, information, articles and resources for business professionals in selected fields and industries. For more information about STG, please visit their website.
###
Contact
Scott Technology Group, Inc.
Daryl Scott
(540) 953-3360
www.scotttechgroup.com
To contact The Contract Manufacturing Site, visit www.theContractManufacturingSite.com

Contact