Ulti-Mate Connector, Inc. Launches New Family of Low-cost, High-reliability Micro-D Connectors
A new family of low-cost, high-reliability Micro-D connectors have been developed to solve common problems inherent with commercially-available Micro-D connectors.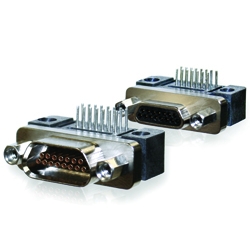 Orange, CA, March 07, 2007 --(
PR.com
)-- A new family of low cost, reduced footprint Micro-D connectors are now available in 9 to 37 contact configurations. Designed to serve as drop-in replacements for Commercial Micro D configurations, the new connectors were developed to lower the cost of standard Circuit Series Micro-D versions while providing the same MIL-C-83513 reliability not available in Commercial Micro-D connectors.
The new connectors have the same robust qualities as their counterpart Circuit Series versions and are available with metal or plastic shells. Thierry Pombart, Technical/Application Expert with Ulti-Mate Connector, Inc. explains: "The new Micro-D Connectors we have developed provide a turnkey solution for those who have designed in commercial Micro-D and found that they weren't robust enough to meet their applications. Designed as a drop-in replacement, our new line eliminates the need for costly board redesign."
###
Contact
Ulti-Mate Connector, Inc.
Steve Brockman
714 – 637 – 7099
www.umi-c.com

Contact