Panel Cutting Library for Woodworking and Furniture Industries
Panel cutting optimization library reduces material waste and operating time for woodworking and furniture industries; can be integrated into CAM/CAD software or embedded directly to cutting machines.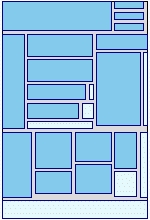 Waterloo, Canada, March 08, 2007 --(
PR.com
)-- Optimalon Software has released a new two-dimensional rectangular optimization library GNCutter32. The main purpose of the library is wood panels cutting optimization, which is widely – used in the furniture manufacturing, at the constructions and the carpenter workshops.
The objective of the optimization is to find such cutting layout that produces less material waste and requires less time to cut the panels. The woodcutting in contrast to the glass cutting is more tolerate for waste because wood is cheaper than the glass, but woodcutting requires much simpler layouts, which should be suitable for the wide range of the existing cutting machines. Therefore the woodcutting optimization is about minimization both waste and working time and the library GNCutter32 provides all necessary tools to accomplish it.
GNCutter32 is a Windows – based library written on C# for Microsoft .NET Framework. It can be easily integrated into existing CAM/CAD software for PC or embedded directly to the cutting machines powered by Windows operating systems (Windows XP, Windows CE or Windows Mobile).
GNCutter32 uses a new high – performance optimization algorithm that is capable to find the cutting layouts for several hundred of pieces in less than a second.
The library provides several features, which are specific for the wood panel cutting only; one of them is minimization of different layouts. The layout minimization allows cutting the several panels at once by placing the panels into a pile one on the top of another. This approach dramatically reduces the operating time and significantly improves the productivity.
The main features of GNCutter32 are:
· Supports five cutting types: Simple XY, Two-stage XY, XYZ, XYZW and Standard Guillotine.
· Horizontal, Vertical and Automatic-detected first cutting directions.
· Supports pre-cuts for higher material utilization.
· Multiple sizes of the stock sheets.
· Minimization of the cutting layouts to reduce operating time.
· Support of non-zero saw thickness and the part gaps.
· Generates list of remaining parts (cut-offs).
· Supports maximum cut length for the cutting machines.
· Sheets trimming.
· Parts rotation by 90 degrees.
· Unlimited parts and sheets number.
· Simple programming interface.
GNCutter32 is available on try-before-buy basis that means anyone can download it for free and test it for 30-days trial period.
More information about the library is available at Optimalon Software website:
http://www.optimalon.com/woodcut_main.htm
###
Contact
Optimalon Software
Denis Smirnov
519-885-0703
www.optimalon.com

Contact