A Multi-user Network Edition of CRM-Express for Small and Midsized Businesses is Available
PGCSoft announces an upgrade of crm-express, a complete crm software package for small and midsized companies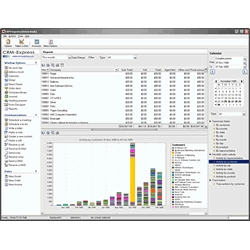 Pretoria, South Africa, March 20, 2007 --(
PR.com
)-- PGCSoft announced an upgrade to its CRM-Express, a complete CRM (Customer Relationship Management) software package for less than the price that is normally paid for a month of on-demand CRM services.
CRM-Express breaks the barrier of affordability of CRM for the small to mid-sized company by bringing them features in a software package that could previously only be afforded by the larger companies.
CRM-Express is fully network ready and allows for sharing of address books, calendars etc. between users.
"Contrary to popular believe that on-demand is the route to go, we still believe that most small companies prefer to control their data themselves and not to place their sensitive data in foreign control," said Pieter Calitz, CEO of PGCSoft.
Calitz continued, "It just does not make sense to have these slow remote data accesses when you are a small company. You need to have the data with you, fast and secure."
With CRM-Express, customers will have reliable information instantly and it won't cost them an arm and a leg.
So, what are these features that are incorporated in a $95 package?
First of all there is the usual contact management, which manages all information related to contacts/customers centrally like email, sms messages, faxes, invoices, orders, contracts, etc.
It is all built into one communication center which supports multiple communication methods. The user can communicate via email, fax and sms. Communicated messages are stored by contact for easy retrieval.
An inbuilt email client manages fast, multi-threaded email with templates and mail merge for email send and receive.
Fax and Call management - Monitor faxes and calls made with call timing.
SMS management - Send and receive sms messages with templates and mail merge.
Templates with MailMerge - Use templates with mail merge capabilities in email, faxes and sms messages.
Sales Order Management - Create quotes, orders, invoices, and packing slips, view sales reports, etc. Creates invoices in PDF format for easy email.
Easy to use - Menu items can be switched off to only show what you need. This simplifies the program to make it easier to learn and use.
DTP Editor - Design email, newsletters, forms, templates, etc.
Mailing List Management- Automate subscription sign-Ups, mass mail with mail merge, etc.
Meeting Planner - Plan meetings with scheduler, reminders and calendar support
Time Management - Time management with "my work day" display, notebook,calendar, etc.
Allocation to contact - Allocate emails, sms, faxes and other documents to the relevant account.
Import/Export - Import from Outlook Express, Act, CSV, XML, V-Cards, etc. Export to XML, Html, Word, Excel, PDF, V-Cards, etc.
Reports - Create sales performance and management reports quickly and easily
Personalized Tech Support - Get answers to all your questions via personalized email for 1 year included in the price
Pricing and Availability
CRM-Express Version 3.06 has just been released and is available now. A 30-day fully functional trial can be downloaded from the website at http://www.crm-express.com. There is no need to supply any details when downloading the trial.
$95 - Standard network edition (1 user pack)
$295 - Special bundle offer (5 user pack)
About crm-express.com
Http://www.crm-express.com is the website of PGCSoft, a software company
For more information please visit http://www.crm-express.com.
Media Contact:
Pieter Calitz
http://www.crm-express.com
###
Contact
PGCSoft
Pieter Calitz
27784297862
www.crm-express.com

Contact