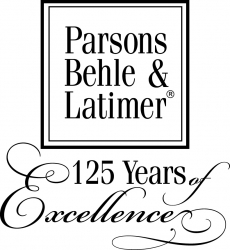 Salt Lake City, UT, April 19, 2007 --(
PR.com
)-- In 1882, William Howard Dickson, a mining attorney and Territorial District Judge, left Carson City, Nevada to establish a law practice in Salt Lake City. The law firm became Parsons Behle & Latimer, one of the largest law firms in the Intermountain West, with 118 attorneys, offices in Salt Lake City, Reno and Las Vegas and an enviable history of successes in litigation and transactions across a broad spectrum of industries.
Over the years, lawyers at the firm have formed hundreds of mining companies, fought dozens of patent infringement battles, handled thousands of business and real estate transactions and guided clients in Superfund and Brownfield's cleanups and redevelopment of thousands of acres of land, all shaping the dynamic business landscape in the region.
Some of the most notable matters include the firm's representation of Kennecott in a land acquisition encompassing the city of Bingham Canyon, which facilitated the expansion of Kennecott's open pit mine. Today, the popular Daybreak Development, the first residential and commercial development on Salt Lake Valley's west bench, sits on more than 4,000 of those acres.
Proving that excellent legal counseling can be worth its weight in gold, the firm successfully represented Barrick Gold in its efforts to have the U.S. Secretary of the Interior rightfully turnover ownership of mining patents. The decision not only resulted in the Goldstrike Mine in Eureka County, Nevada becoming one of the largest and most profitable gold mines in North America, but also launched Barrick Gold as one of the leading gold mining companies in the world.
The law firm successfully thwarted efforts of developers to force Hercules (now Alliant Techsytems) to move its rocket motor manufacturing facility from Utah to Texas by establishing the "come to the nuisance" defense. Before the U.S. Supreme Court, veteran litigators at the firm played an important role in solving the mysteries surrounding Howard Hughes estate in representing his Summa Corporation. In the mid-80s, the firm launched its intellectual property litigation practice with the successful resolution of a patent defense case for Baker Hughes and two other cases for Ireco, now Dyno Nobel. Since then, members of the practice area have had an impressive array of victories in over twenty states. The firm successfully represented a client in a products liability case against General Electric, which resulted in the recall of over nine million defective coffeemakers. Most recently, the firm assisted the Unsecured Creditors Committee to obtain a substantial financial recovery in Geneva Steel's bankruptcy.
The firm served as environmental counsel to the U.S. Olympic Committee for the Salt Lake City 2002 Winter Games and helped Survivor and The Apprentice producer, Mark Burnett, survive his own legal obstacles that threatened his launch of the first Eco-Challenge race on April 25, 1995 in Moab.
For all of its victories over the years, in and out of court, Parsons Behle & Latimer has maintained an unwavering focus on the Utah and Nevada business communities. As president Raymond J. Etcheverry notes, "Owners of businesses, large and small, have relied on us to protect or obtain what is rightfully theirs. We're proud that we've helped hundreds of clients through the complexities of legal matters allowing them to expand and even in some cases effectively downsize. Just as local executives and entrepreneurs have successfully adapted to economic and market changes, so have we."
Today, Parsons Behle & Latimer has five major practice areas: litigation; environmental, energy & natural resources; corporate & tax; real estate, banking & finance; and employment. The firm serves clients in the natural resources, securities, real estate, banking, technology, retail and manufacturing industries. In addition to having 55 AV-rated (the highest rating) Martindale-Hubbell lawyers, 27 of the firm's attorneys are recognized in the 2007 edition of Best Lawyers in America and 11 attorneys are listed in Chambers USA. For more information:
http://www.parsonsbehlelaw.com
.
To celebrate their 125 anniversary, Parsons Behle & Latimer attorneys and management will host client and employee dinner celebrations in both Utah and Nevada throughout the year.
###