Why Art is Not an Afterthought
Independent Artist Emphasizes Connection over Commodity
Tampa, FL, February 15, 2012 --(
PR.com
)-- Take a stroll through just about any big box store and you'll find basket loads of home décor that range from contemporary to classic in a variety of predictable styles, as well as being moderate enough in price to satisfy even the weakest of impulse buying urges. A white wall is often asking for something…but is it really asking for anything?
One independent artist-entrepreneur is making a statement that challenges this "art as an afterthought" paradigm. Beverly Britton, owner and artist at AlignBetween Art | Design, started out making canvas prints from her photography to satisfy requests from friends that wanted something more original to hang in their homes. Now, she's graduated to a full-fledged online site offering her art on canvas to the public, admittedly launching during one of the most challenging economic times in recent history – and targeting the home décor and interior design market to boot.
"What I really want to impress upon people," says Beverly, "is that art is something personal and unique – an opportunity to express your own inner curator…you should select a piece that has significance, that really complements your lifestyle design or evokes an emotional draw. You should love it. It shouldn't be an afterthought."
Creating under the tagline "Art for Inner Spaces," Beverly's niche at http://www.alignbetween.com intentionally speaks to the individual who fancies Asian or global–themed artwork, all sourced through her own photography while traveling. She also features a growing "Peace Within" category that uses yoga and meditation themes – perfect for studios, spas, and holistic-minded professional and residential spaces. AlignBetween art is also heavily nature-centric, perfect for the tulip and lotus flower seekers looking for something soft yet dramatic.
"I like to design art with intention…when I look around my own home, I can say without a doubt the art is a literal expression of myself." But you don't have to be an artist to enjoy this same relationship with your décor, she adds, "Knowing your artist is like knowing your mechanic, or even better, your farmer. Local businesses, one-on-one relationships, a face with a name…all this factors in to a meaningful purchase."
AlignBetween offers several benefits that are becoming ever more popular and common sense: her gallery-wrapped and ready-to-hang canvases are made to order and made in America. When you place the order you are buying direct from the artist and supporting a small, domestically run business. Not to mention AlignBetween is active on Twitter, Facebook, and blogging – and the personality of AlignBetween encourages a two-way relationship with friends and customers alike.
There are great online venues for art buyers to connect with artists – Etsy and RedBubble to name just two. Before you make that impulse buy when you're out shopping for home goods…spend some time investigating the treasures being sold by the artists themselves – online or in your own community at home.
###
If you would like more information about this topic or to schedule an interview, please contact Beverly Britton at 352-455-5595 or email innerpaces@alignbetween.com
Contact
AlignBetween Art | Design
Beverly Britton
352-455-5595
http://www.alignbetween.com

Contact
Multimedia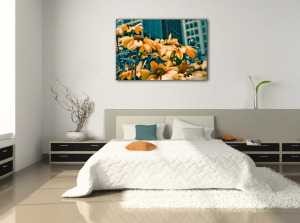 Flowers blooming against the Chicago city backdrop at the site of artist Marc Chagall's "The Four Seasons" mosaic. Aptly titled Juxtapose, this AlignBetween art on canvas captures the intentional adornment of nature held in the arms of an urban artistic landmark.