Habitude Launches New 'Antisurgical™ Lipo Kit' Cosmetic Surgery Alternative
Alternative to cosmetic surgery that doesn't involve doctors, scars or recovery time. This new home treatment has given consumers a painless alternative to going under the knife.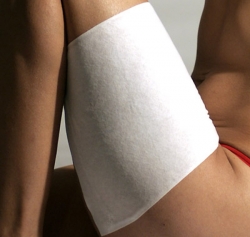 Austin, TX, September 15, 2007 --(
PR.com
)-- The antisurgical™ Lipo Kit is an innovative system designed as an alternative to traditional liposuction for consumers who either can't afford the high cost of liposuction or are afraid to go under the knife. The antisurgical™ Lipo Kit System is unlike any other weight loss/diet system, body wrap, cellulite treatment, body gel or cream on the market today. It is a new conceptual system of products ideal for women and men who desire a beautiful, slim and firm body. antisurgical™ Lipo Kit helps to resculpt the body from head to toe... naturally, easily and painlessly. This is accomplished in three easy steps: 1. Apply the antisurgical™ Lipo Patch to the area you are targeting. The Patch is large enough to target the entire area you are targeting. Wear for a minimum of 1 hour. Apply once every 3-4 days. 2. Apply antisurgical™ Body Slim Gel to the targeted area twice daily on the days between Patch applications. 3. Take their antisurgical™ Body Slim Formula once daily.
The antisurgical™ Lipo Kit works by firming, toning, smoothing the skin and activating your body's metabolism forcing fat cells to release trapped toxins which causes fat cells to shrink. Fat is expelled by the body's natural elimination system. You will lose inches and weight.
The antisurgical™ Lipo Kit can be viewed and ordered online at http://www.antisurgical.com The antisurgical™ web site also provides detailed information about each of the products in the antisurgical™ Lipo Kit.
Habitude is an Austin, TX company specializing in weight loss and anti-aging products. The company's "cosmetic surgery alternative" product line has been sold in the US, Canada, UK, Australia, India, Singapore and has been featured in UK based magazines and other publications.
###
Contact
Habitude LLC
Regina Blackmore
866-883-5842
www.antisurgical.com

Contact