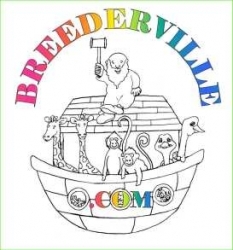 North Brunswick, NJ, December 21, 2005 --(
PR.com
)-- Breederville.com had its successful launch November 26, 2004. It's main focus, Online Animal Auctions.
Since their sole focus is classified and auction format listings for live animals, the staff is able to spend considerable amounts time with screening users and lending personal assistance.
Successful sales have included, pets such as primates, snakes, fish, and dogs along with livestock such as llamas, ponies and cattle herds.
Sellers are able to make sophisticated listings that include, terms of breeding options and sales; Fish and Wildlife and USDA license numbers; along with including video or health papers in listings for buyers to view. Sellers are equally able to prescreen buyers through a provided advance profile, Breederville MyMessaging and interactive forums. Terms of sales have often included buyers visiting with sellers while their auction bids act as a binding contract. Bids can be retracted upon buyers and sellers request.
Breederville.com isn't just about sales. The entire community format promotes a knowledge base through their Library, Newsletters, Online Tools and Community Forums.
Breederville.com will be enjoying an exciting outlook for 2006 with their up coming launch of a funding system for nonprofits in which hundreds of rescues, 4H groups and sanctuaries have already preregistered.
Lisa Ostella
Breederville.com
1-866-954-5625
###