Los Angeles Document Shredding Services Easily Reached at Document-Shredding.org
Business owners in Los Angeles, California can now find listings of document shredding companies and find out the details of service offerings. Los Angeles document scanning and storage services may be found there too.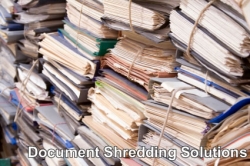 Los Angeles, CA, August 08, 2013 --(
PR.com
)-- Ever wondered what to do with all of the paper work piling up in your office? A new
Los Angeles document shredding
service finder can help you to safely destroy documents and scan or store the ones you want to keep...All at the click of a button.
The Document Shredding Directory has listings for companies in the Los Angeles area and can help businesses locate a shredder with a free quotes finder service.
"We wanted to create an all inclusive directory of shredding companies to help businesses take care of their documents in a way that is convenient, affordable, legal and environmentally responsible," says Art Green, a publicist for the website.
The main motive for companies to shred paper is usually security. Businesses often hire professional document shredders to make sure that they stay within legal guidelines for properly disposing of sensitive customer information. This is a smart move for any business, and combined with document scanning and storage services, can drastically improve the workflow process.
"Every stage of managing paperwork can be handled simply by visiting the Document Shredding Directory and filling out the services form. Many companies out there offer assistance with all 3 phases of document flow, which would be shredding, scanning and storage. We aim to help consumers find the best information management services for their business at an affordable price."
Regular Los Angeles paper recycling services pay very little attention to security. A professional Los Angeles document shredding service issues certificates of destruction that will acknowledge responsibility for the papers, will decrease company liability, and will show that your business takes information privacy seriously.
To find a service provider in your area, visit the
Document Shredding
Directory today.
Contact
Document Shredding Services Directory
Art Green
415 671 6274
www.document-shredding.org

Contact