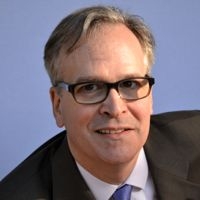 Mendham, NJ, October 04, 2014 --(
PR.com
)-- "Having my face appear over Time's Square? It wasn't exactly something on my bucket list," Richard Hawkes confessed with laughter.
Mr. Hawkes was reacting to having been told his image will be projected over Times Square this coming Wednesday, October 10. The honor came to him as a result of being nominated by Strathmore's Who's Who as the Management Consultant of the Year.
Mr. Hawkes was selected from a large community of consulting professionals – nearly 60,000 – based on interviews and research. This prestigious recognition stems from his many positive contributions, through his firm Growth River, to clients in the US and Europe.
"Growth River was probably the best money we ever spent," Marty Rosenberg, Managing Director at Navigant Healthcare explained. "And not just for the results of growing a company 10x over four years, but also for the relationships."
Growth River uses a holistic approach to business growth developed over 20 years with hundreds of diverse companies, including Fortune 100 brands like Corning, Cox Communications, Merck, Pfizer, Federal Reserve Bank of Philadelphia, Prentice Hall, Novartis and Sun Microsystems.
Growth River specializes in major transformational change initiatives that impact organizational culture and business models at the same time.
"It's a whole systems approach," Mr. Hawkes described, "one that reduces complexity and creates buy-in for executives and their teams. The single most important leverage point is the speed at which business leaders develop. We guide senior teams to how best to invest there, and the results follow."
As long-term Growth River client Steve Sun explained, "Instead of having a single business leader, we have a whole team of leaders." Mr. Sun is CEO of GENEWIZ, a genomics sequencing company based in NJ.
"When I think of Growth River's value to GENEWIZ, it's been at every single step of our growth," Mr. Sun said. Starting with 4 scientists in a lab, the company has grown nearly 40% annually, without outside investment, to become the largest global player in it's industry. GENEWIZ also regularly garners Best Workplace awards.
Mr. Hawkes began his career developing margins trading systems at Morgan Stanley. He subsequently became a senior member of the strategy practice with Kepner-Tregoe International, before becoming a partner with Strategy Partners Group, LLC. In 2002 he became Chief Strategist with Guttman Development Strategies. Mr. Hawkes founded Growth River LLC in 2007. Currently the company operates in the U.S. and Germany.
About Strathmore's Who's Who
Strathmore's Who's Who honors successful individuals in the fields of Business, the Arts and Sciences, Law, Engineering and Government. We honor professional men and women in all academic areas and professions based on one's position and accomplishments. Inclusion is limited to individuals who have demonstrated leadership and achievement in their occupation, industry or profession. The Times Square appearance is given to the individual who has demonstrated consistent excellence in their career. The visual celebration of this individual will be displayed on digital screens at the venerable and historical 3 Times Square, New York, one of the busiest and most high profile landmarks in the nation.