Dallas, Texas Top Real Estate Agent to Join Millionaire Masterminds
The Millionaire Masterminds is the single source for celebrity training & mentor programs. Katrina Campins (of The Apprentice) has been selected as the next Millionaire Masterminds host. Dallas, Texas top real estate agent Chastin J. Miles has been selected to represent one of the hottest markets in the country in this elite group of real estate agents.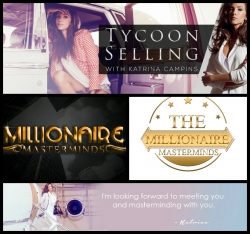 Dallas, TX, June 20, 2015 --(
PR.com
)-- "I am excited to have Katrina host our next real estate mastermind program. I have spent the last several months planning our next mastermind in the real estate industry and I can tell you that these agents are in for an amazing journey." - Founder Sean J. Matheis
"Chastin J. Miles has a forward thinking, twenty-first century, approach to the real estate business is like no other agent around." -
Sean Matheis, Founder Millionaire Masterrminds
In 2014, Chastin partnered with Rogers Healy and Associates, one of the top brokerages in Dallas, to really take his business to the next level. True to his craft, Chastin is one of the most visible agents in Dallas and continues to set sales records all across Dallas and surrounding areas. Chastin's background includes an extensive marketing resume. He has worked with businesses and entrepreneurs all across the United States in launching and branding their businesses for maximum exposure. With this sort of background, it has empowered him to market his clients' homes better than any other agent around.
Chastin J. Miles is known as a full-service Real Estate agent specializing in Dallas real estate, lifestyle management, and client representation in a broad spectrum of classes including single-family residential, condos and developments, commercial real estate, and luxury leases. Chastin J. Miles aims to bring a new light and perspective to the traditional real estate agent. Chastin extends far beyond what a conventional agent offers. Chastin J. Miles envisions himself as both a lifestyle agent committed to informing and connecting our local communities, and as an agent offering design, marketing, and sales solutions for buyers, sellers, develops, and investors local and internationally.
With his partnership with Healy Relocation, Chastin is able to work with clients, not only nationwide, but worldwide. This is something most agents can't offer. Relocation services are not only limited to helping nationwide and international clients buy, sell, and lease properties, but also furnishing, car shipping, and moving personal belongings worldwide. Healy Relocation has served clients of many industries including athletes and CEO's of Fortune 500 companies. Chastin can confidently say that this partnership has broken the barriers to traditional real estate. He quotes "I don't want to limit myself or my clients. I look for new opportunities wherever I can find them to make the lives of my clients that much easier." Chastin J. Miles
Chastin currently resides and works in Dallas, TX. He stems from a large close-knit family. Born in Texas, he knows the market really well. Being a well-traveled individual, Chastin has connected with agents all across the country. Chastin is constantly traveling and connecting in an effort to be fully knowledgeable about not only real estate in Dallas but real estate all over the country. When working with Chastin, you will feel confident that one of the biggest transactions in your life, will be well taken care of.
The Millionare Masterminds
www.themillionairemasterminds.biz
Contact
The Millionaire Masterminds
Sean Matheis
1-888-322-0009
www.themillionairemasterminds.biz
www.sellingwithsean.com

Contact