Grievers Looking for Random Act of Kindness to Find Healing and Hope Amid the Darkness
National personalities to share personal sorrows, offer hope during challenging times.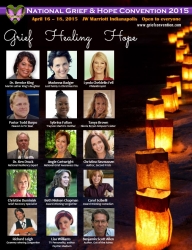 Indianapolis, IN, March 17, 2015 --(
PR.com
)-- Grievers around the nation will converge in Indianapolis from April 16 - 18, 2015, for the first
National Grief & Hope Convention
, at the JW Marriott Grand Ballroom. But some are hoping for a random act of kindness from strangers to help them make the trip.
"We've received over a dozen hardship applications from individuals who are in need of healing and renewal, but are struggling financially since losing their loved one. Some have lost their jobs, their cars, and even their homes," states executive director Lynda Cheldelin Fell. "They are desperate for a glimmer of hope, and in need of a sponsor to help them get to Indianapolis."
Each applicant has submitted an explanation outlining the financial barrier that prevents them from paying their own way, including proof of income. The sponsorship covers every aspect of the applicant's attendance at the convention including airfare, taxi, lodging, meals, and full convention registration.
Fifteen nationally known personalities ranging from historical icons to Fortune 500 leaders to award winning entertainers will speak on personal sorrow, lead workshops, answer questions from the audience, and personally greet the public with the goal of offering healing and hope during challenging times.
Open to the public, tickets are $35 per session and available at
www.griefconvention.com
.
For information on sponsoring an applicant, click on the Sponsor tab of the convention website, or contact executive director Lynda Cheldelin Fell at director@convention.com.
Contact
AlyBlue Media
Lynda Cheldelin Fell
360-510-8590
www.lyndafell.com

Contact