Local Artist Paints Murals for Popular Minneapolis Restaurant
Muralist Patricia Buzo paints realistic murals for Taqueria La Hacienda restaurant in Minneapolis, Minnesota. Visitors fooled by her realistic style.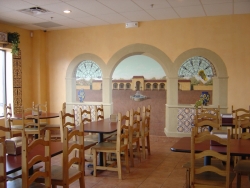 Minneapolis, MN, February 18, 2006 --(
PR.com
)-- Visitors to the newly opened Taqueria La Hacienda restaurant in Minneapolis get the complete dining experience. Not only is the food authentic, but so are the surroundings.
An 18-foot-long mural of a Mexican hacienda courtyard scene, complete with trompe l'oeil elements such as faux ironwork, Mexican pottery, and tropical parrots adorn the entrance wall of the restaurant, setting the stage for the business's authentic Mexican atmosphere.
The mural work is the creation of local mural artist Patricia Buzo, 27, who is known for her realistic painting style.
Buzo was commissioned by the restaurants owners Miguel and Azucena Zagal to transform their newly built 2500 square foot restaurant into an inviting and authentic atmosphere for their mostly Hispanic patrons. Taqueria La Hacienda, 334 East Lake Street, Suite 101 in Minneapolis, Minnesota is located at the West end of the Plaza La Hacienda shopping mall which has several quaint shops offering a variety of Latin American items.
The main mural, an 18-by-8-foot acrylic, is painted on canvas mounted on the north wall. At the mall entrance is another trompe l'oeil mural depicting an arched window overlooking a Mexican landscape scene. Surrounding the restaurants six windows are faux painted wrought iron panels.
"I have people ask me where I bought the ironwork, thinking it's real. They are stunned when I tell them to go touch it...that it's painted." said owner Miguel Zagal of Burnsville. "We've had a number of artists ask to paint for us, but we chose Patricia because of her realistic style and the fact that she knew exactly what we wanted. We wouldn't dream of working with anyone else."
Buzo has always had a passion for the arts, and has trained at some of Minnesota's finest art facilities, beginning her artistic journey when she was just 13 years old. In 2001, at the age of 21 she founded her own decorative painting business she called Patricia's Palette. Patricia's expertise lies in decorative finishes such as fine faux effects and trompe l'oeil murals. Recently she appeared on HGTV's "Landscape Smart" as a guest mural expert in which she and the homeowner completed a mural scene on a backyard fence.
Taqueria La Hacienda Restaurant's menu includes authentic Mexican tacos, burritos, tortas (Mexican style sandwiches), and combination plates. They are located at 334 East Lake Street, Suite 101, Minneapolis, Minnesota 55408. 651-822-2715
Patricia Buzo can be reached by phone at 651-785-6746. She also has an online portfolio of works at Patricias-Palette.com.
###
Contact
Patricia's Palette Mural Studios
Patricia Buzo
651-785-6746
www.patricias-palette.com

Contact