Low Carb Support Site Celebrates 8 Years Online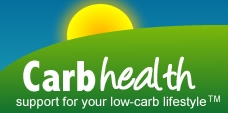 Wappingers Falls, NY, February 20, 2006 --(
PR.com
)-- CarbHealth™, which started in early March, 1998, is a free support web site for those following or considering a low carbohydrate diet plan such as The Atkins Diet, Protein Power, or South Beach. With free low-carb recipes, health articles, and message boards, the site provides resources and encouragement.
The CarbHealth™ web site also spawned the very first print magazine for low-carbers. CarbHealth Magazine™ was in publication from October 2002 through March 2004, when LowCarb Energy™ Magazine (Coincide Publishing,) took over the subscriber list.
"This site has been a constant reminder to me that when you have a passion for something, you can accomplish anything," says founder and webmaster, Tiffany Anthony.
"I started it as a collection of a few soy-based recipes, and now it's a valuable support system for thousands of people. I never would have imagined it would still be successfully running eight years later, or that I would have been the Editor-In-Chief of a successful print magazine because of it!"
The free message boards (forums) provide a home for over 1,600 members and cover topics such as Exercise and Fitness, Vegetarianism, Fibromyalgia, Polycystic Ovarian Syndrome, and more. Members can share recipes, articles, and experiences while making friends and learning creative ways to keep their willpower and improve their health.
"Many think the low-carb fad has died. But my traffic continues to rise. That doesn't sound like the death of a lifestyle to me. I think people are just becoming better informed and steering away from 'Frankenfoods.' With some of the major players in the food industry bowing out, it's made the simple, healthier approach much more popular."
Anthony will continue to promote and update the site with the hopes of reaching a successful ten year mark in 2008. The latest design promotes well-being and will focus more on the health benefits of a proper lower carbohydrate lifestyle for 2006.
###
Contact
CarbHealth.com
Tiffany Anthony
845-297-5472
www.carbhealth.com
www.e-clipse.com
www.chtalk.com

Contact