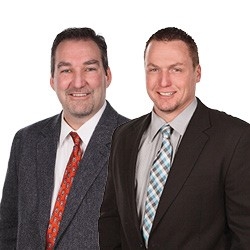 Saginaw, MI, January 27, 2017 --(
PR.com
)-- The 55-year old consulting firm of
OHM Advisors
is pleased to announce that two of its Saginaw office associates, Steven Warren, PE and Charles Rolfe, PE, have been elected to the firm's shareholder group.
Steve Warren, PE
Saginaw Director, Saginaw, MI
Steve Warren is the director of OHM Advisors' Saginaw office. A professional engineer with more than 20 years of experience, he opened this office in 2013, and is responsible for operational management, project delivery, and business development. Under his leadership, staff retention is high and OHM Advisors is thriving in the mid-Michigan market.
Warren received his B.S. in Civil Engineering from Michigan State University in 1995 and routinely serves as a guest lecturer for the MSU School of Planning.
Charles Rolfe, PE
Senior Project Manager, Saginaw, MI
Charles Rolfe is a senior project manager for the Mid-Michigan region. With more than 17 years of design and construction experience, he is adept at project delivery and customer relationship development. His efforts to deepen relationships with the Michigan Department of Transportation, Saginaw and Bay County Road Commissions and municipalities such as the Village of Chesaning, the Cities of Owosso and Rose City, contributed significantly to the firm's growth in the Mid-Michigan market.
Rolfe received his B.S. in Civil Engineering from Michigan State University in 1999. He is a guest lecturer for the MSU School of Engineering senior design program.
Warren and Rolfe are joined by three other new shareholders: Steven Loveland, Murat Ulasir, and Aaron Call.
Steven Loveland, PE, PTOE
Traffic Group Manager, Livonia, MI
As manager of OHM Advisors' Livonia traffic team, Steven Loveland, PE, PTOE is responsible for staff oversight and project delivery for state and local roadway infrastructure clients. Since joining the firm in 2001, he has grown in his role – developing deep expertise and long-standing client relationships in the process. Steve is an active member of Institute of Transportation Engineers and served as the Michigan Section President in 2014. He is a graduate of the Michigan Technological University.
Murat Ulasir, PhD, PE
Infrastructure Asset Planning Specialist, Livonia, MI
Murat Ulasir, PhD, PE has more than 20 years of experience in consulting engineering, research, and teaching. A specialist within the firm's environmental water resources group, his focus is infrastructure modeling and sustainable asset management. His efforts helped the firm build a team with the expertise to help nearly 30 communities obtain funding and implement the technical requirements of Michigan's SAW Grant Program. Murat has a PhD from the University of Michigan in civil engineering/hydraulics.
Aaron Call, PE
Columbus Engineering Manager, Columbus, Ohio
A senior project manager with 12 years of experience working on a wide range of transportation projects for state and local government agencies, Aaron Call, PE, leads engineering services out of OHM Advisors' Columbus office. Passionate about finding unique ways to turn routine roadway projects into impactful community enhancement opportunities, his efforts have helped grow the firm's client base within the Columbus market. Aaron is the Past President of the Central Ohio Chapter of the American Society of Highway Engineers, and a graduate of The Ohio State University.
About OHM Advisors:
OHM Advisors is a community advancement firm designing award-winning work across the architecture, engineering, and planning spheres. Founded in 1962, we believe in the power of multidisciplinary teamwork to find ideas that aren't just different – they're better. Nearly 400 employees throughout Michigan, Ohio, and Tennessee partner with leaders at all levels of government, road commissions, school districts, universities, private companies and developers, in order to create great places for people.