Moving Forward with Momentum: Solution Provider FACTON Gets Ready for the Next 20 Years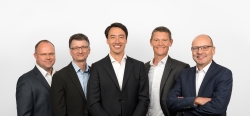 Potsdam, Germany, September 26, 2018 --(
PR.com
)-- FACTON, the leader in Enterprise Product Costing (EPC), is celebrating its 20th anniversary this year by looking ahead at the next 20 years. FACTON has enjoyed steady growth since its inception in 1998. It has nearly 100 employees at four locations in Potsdam, Dresden, Stuttgart and Detroit who support over 100 clients and more than 4,000 FACTON EPC users worldwide who rely on the software for enterprise-wide, standardized product costing. To pave the way for further growth, FACTON will be moving its company headquarters to larger offices this October, which will offer more space for creativity and collaboration. The management team led by CEO Alexander M. Swoboda is now complete following the arrival of its two latest members, Vice President, Research & Development Gerd Schreiter and Vice President, Global Sales Markus Zabel.
"We are very proud of our performance over the years. It is important to understand that there wasn't even a market for Enterprise Product Costing in 1998. We spent a lot of time clarifying the needs of the manufacturing industry with respect to product costing. Once we were certain that we fully understood these requirements, we implemented them consistently in our software," says Alexander M. Swoboda, CEO of FACTON. Over the years, the company has steadily developed and upgraded FACTON EPC Software in conjunction with clients, continuously learning from one another. "It was hard work at times, but now we are reaping the benefits. And seeing our new competitors in the market only confirms this success. We are always moving forward. This sustained improvement in product cost management has been a driving force for us over the past 20 years and it will continue to propel us forward in the future," Swoboda adds.
FACTON on a Course for Growth
To provide more space for the company's dynamic growth, the software manufacturer will be moving its headquarters to new offices on Lake Jungfernsee, in Potsdam, Germany. "Our 100th employee will begin working for us in October and we are expecting more colleagues during the course of the year. Our goal is to provide an environment to all of our employees where they feel welcome and excited at the prospect of collaborating with one another each new day," says Swoboda of the upcoming move. The modern offices located at Konrad-Zuse-Ring 12b in Potsdam, Germany offer plenty of space for personalized workplace options: FACTON employees can look forward to modern flex workstations and different work zones featuring a variety of designs. These options range from areas where employees can retreat to work on tasks that require a great deal of concentration all the way to meeting areas for interdisciplinary collaboration and creative exchange. "We are especially pleased that our new office space not only offers two gorgeous terraces with views of Lake Jungfernsee, but that it is also embedded in a sea of green. Our FACTON running group is already planning a training route along the water's edge," Swoboda continues.
Management Team Expanded
Another component of the company's growth strategy is the expansion of its management team. Effective immediately, Vice President, Research & Development Gerd Schreiter and Vice President, Global Sales Markus Zabel will support CEO Alexander M. Swoboda and his team. Now the executive team is complete, with Vice President, Customer Services Christoph Müller, and Vice President, Professional Services Rüdiger Stern who already have years of experience working for FACTON.
Gerd Schreiter studied computer science at the Chemnitz University of Technology and Trinity College Dublin. After graduation, he worked as a software developer. For more than 15 years, he has led international development teams in Ireland, the U.S. and Asia in the fields of finance, trading, performance management and e-commerce software. After living abroad for many years, Schreiter returned to Germany in 2018 and is now responsible for the technological development of the FACTON EPC solution family.
Markus Zabel studied economics at Ruhr University Bochum. He has more than 20 years of sales experience in application solutions for business processes and finance, ERP, supply chain and product lifecycle management. He has enjoyed great success in a range of management positions at Hyperion and Oracle, among other firms. Today, Markus Zabel is FACTON GmbH's Vice President Global Sales.
A printable picture is available here:
http://bit.ly/2O6JXSa
Caption:
FACTON Management Team, from left to right:
Markus Zabel, Vice President Global Sales
Gerd Schreiter, Vice President Research & Development
Alexander M. Swoboda, CEO
Rüdiger Stern, Vice President Professional Services
Christoph Müller, Vice President Customer Services
About FACTON
The FACTON EPC Suite is the leading Enterprise Product Costing (EPC) solution for the automotive, aerospace, mechanical engineering and electronics industries. Its specific solutions offer robust answers to the requirements of executive management and individual departments within the enterprise. FACTON EPC enables standardized, enterprise-wide costing independent of location and department for maximum product cost transparency throughout every phase of the product lifecycle. Businesses accelerate their costing, achieve pinpoint cost accuracy and secure their profitability.
FACTON was founded in 1998 and has locations in Potsdam, Dresden, Stuttgart and Detroit. Hasso Plattner, founder and chairman of the supervisory board of SAP SE & Co. KG, has supported this innovative company since 2006. The international portfolio of customers includes Ford Motor Company, Henniges Automotive, DURA Automotive Systems, Airbus, Mahle Behr, MANN+HUMMEL, Porsche and other renowned manufacturers.
Contact
FACTON GmbH
Iris Wedepohl
+49 (0) 331 97 99 2-439
www.facton.com
Press Contact Agency:
Sascha Smid
Senior PR-Consultant
vibrio. Kommunikationsmanagement Dr. Kausch GmbH
Tel.: +49 89 321 51-604
facton@vibrio.de

Contact