Demand Options, a Subsidiary of Ge-Shen Corporation Adds Additional Factory Space to Increase Capacities in Metal Stamping
Custom metal stamping and sheet metal fabricator in Malaysia expands its factory and plans to double its stamping press to grow its business.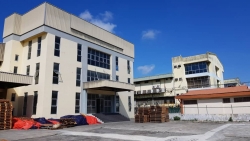 Johor Bahru, Malaysia, April 04, 2019 --(
PR.com
)-- Demand Options Sdn Bhd (www.dosb.com.my), a custom metal stamping and sheet metal fabrication company, located in Johor Bahru, Malaysia has announced that it has increased its factory space by approximately 4,910 square meters by acquiring an adjacent factory building which is currently unoccupied.
"With the expansion of factory space which is adjacent to our current site, we are now planning to double our metal stamping capacity from 20 stamping presses to approx 40 stamping presses ranging from 25 tonnes to 400tonnes. The ability to scale up quickly puts us in a very good position to leverage on the current global trade displacement as we are able to offer competitive metal components to our customers globally. With this expansion, we are ready to help our customers to strengthen their existing supply chain by having sufficient and readily available capacities." – Demand Options Sdn Bhd
Demand Options, is a subsidiary of Ge-Shen Corporation Berhad, has manufactured customized metal stamping and metal fabrication since 1997. Included in Demand Options' capability is tool & die fabrication, prototyping, secondary processes like spray painting, powder coating and assembly. Demand Options has experience in fabricating and stamping parts from 0.1mm to 5.0mm thick in ferrous and non-ferrous metals.
Renovation works in the newly acquired site has started and the first machines are expected to be delivered late April 2019. This newly acquired site is directly adjacent to its current site, which has been owned and occupied by Demand Options for over 10 years. The acquisition is highly advantageous as it allows Demand Options to scale very quickly without much duplication in headcount or supporting processes and facilities.
Demand Options looks to expand its customer base in America & Europe and welcomes any enquiries for its services.
About Ge-Shen Corporation Berhad
Ge-Shen Corporation Berhad (
www.gscorp.com.my
) is a contract manufacturer that specializes in plastic injection moulding, sheet metal fabrication and assembly services in 3 locations across South East Asia. GSCORP has years of experience helping product owners bring their ideas to life. It currently serves customers from various industries including the consumer electronics, household products, industrial, medical, automotive and aerospace. Ge-Shen Corporation Berhad is listed on the main market of Bursa Malaysia Securities Berhad.
Contact:
Group Business Development Team
info@gscorp.com.my
Contact
Ge-Shen Corporation Berhad
Louis Lau
0327850975
www.gscorp.com.my

Contact