eMediaCampaigns! Author, Dr. David R. L. Stevens' Releases "Love, Marriage, and the Baby Carriage"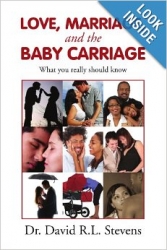 Philadelphia, PA, October 31, 2013 --(
PR.com
)-- The days preceding a lifetime of marriage are something that should be looked forward to--not dreaded. Marriage enthusiasts tired of being held captive by pain and blame will find Dr. David R. L. Stevens' latest book, "Love, Marriage, and the Baby Carriage" (Xlibris), especially inspiring. The seven-time author who is greatly admired in the hearts of his readers, recently signed on with award-winning, PR and publicity firm, eMediaCampaigns!.
"Dr. Stevens is an impressive addition to our growing list of dynamic authors," stated Fran Briggs, Director of Operations at eMediaCampaigns!. "We are absolutely delighted to represent him."
"Love, Marriage, and the Baby Carriage" is fourth in a series of 7 books by the author. Stevens aptly uses real-world scenarios from more than four decades of counseling couples who seek his guidance. Among the pages are practical and comprehensive strategies suitable for couples who could benefit from creating new and preferred outcomes. Throughout the book, the author maintains a narrative style that is insightful, powerful, and at times--humorous.
"This book could change your life for lest than the cost of a Starbucks' Pumpkin Spice Latte," says a charismatic Stevens of his latest publication.
Dr. Stevens not only explores the detriment of adult decisions that gravely affect married, and soon-to-be-married couples, but illustrates how to avoid damaging communication styles that won't stop on their own.
"After successfully helping married and pre-married couples through counseling, making videos and doing relationship seminars for about 25 years I started to think about other ways of spreading this vital message. The Bible is rich in foundational relationship truths and I needed to share this with the world," stated Dr. Stevens when asked why he wrote the book. "I also found that if I could join Biblical principles with actual real life experiences, mix in some humor, to encourage positive behaviors I felt that this combination was unbeatable. My wife Dorothy and I have our own success story that spans more than a half century."
For additional information, or to purchase any of Dr. Stevens books, visit https://www.amazon.com/author/drdavidstevens Love, Marriage, and the Baby Carriage is available in soft cover, and digital formats from Amazon.com, and selected online and offline book sellers. To book Dr. David R. L. Stevens for appearances or speaking engagements, contact his publicist, Fran Briggs, 206.279.0818.