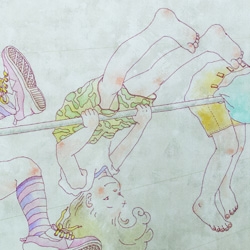 New York, NY, November 01, 2013 --(
PR.com
)-- Talented Japanese contemporary artist Tomoko Sugimoto will host her first solo exhibition in Manhattan, Turn Around And Around, Then Around, on Wednesday, November 6th at 373 Broadway, Suite 204 in Tribeca from 7-10pm. Curated by Osiel Rojas of No Romance Galleries, which previously participated in Art Basel Miami and is known for its work within the emerging art community, this will be Sugimoto's second solo New York show. Already widely recognized for her unique artistic style, Sugimoto's upcoming Manhattan installation further solidifies her presence as an independent artist.
A much needed respite from the disruptive and destructive style that has come to be associated with meaningful contemporary art, Sugimoto's latest body of work employs a different strategy in order to refresh the traditional art world palette. She uses a combination of lightly applied acrylic paints, water colors and cotton thread embroidery on canvas to create each piece. Featuring pieces of varying sizes, Turn Around And Around, Then Around is titled after the largest work in the exhibit, which is a triptych depicting children at play on a continuous pole in a floating world.
Utilizing loose form and emotive imagery, Japanese mentality is usurped by American obsession, choice of medium and process; the "Eastern" story becomes the "Western" surface treatment. Sugimoto's skillfully-crafted narratives allow the work to "mean" what it is the viewer sees, each of which is defined by form. Balancing the white space with delicately formed, yet slightly ambiguous characters, the paintings in Sugimoto's upcoming exhibition provoke thoughts on both the negative space and the free flowing forms she's deftly created.
Having had her art exhibited in group shows in NYC, Miami and Tokyo, Sugimoto's solo debut was in March 2011 at graphite in Williamsburg, Brooklyn. Most recently her art was showcased at No Ends, a group exhibition curated by No Romance Galleries in New York City in December 2012.
About Tomoko Sugimoto:
A Tokyo native, Tomoko Sugimoto graduated from Musashino Art University in Japan. Upon receiving her degree she relocated to New York City to attend the School of Visual Arts where she earned her Bachelors of Fine Arts in Illustration. For over ten years Sugimoto has worked as the Painting Director of Takashi Murakami's studio, traveling around the world to produce his shows and retrospectives. Sugimoto's personal work has been exhibited in group shows in New York City, Miami and Tokyo. Her first solo show, Whirl and Swallow, took place in March 2011 at graphite in Williamsburg, Brooklyn. Her most recent installation, Through the Looking-Glass and What I Found There, was held in December 2012 at The Shop at The Standard, High Line.