Image Gallery
Castle CRM
Castle CRM
We have a sound understanding of our Clients' operations and corporate goals. As a thought leader in the industry, we continually bring knowledge and new ideas to them. In partnership, we develop, execute, and deliver inventive solutions to enhance their competitive advantage. Total client satisfaction defines our success.

We deliver thought-leadership and future technology roadmaps.
We help people make better business decisions through technology and information systems.

We develop business strategies with a holistic approach to the customer experience life-cycle, from marketing and sales, to customer service and support.

We believe that acquiring a CRM solution is not about adding software, but rather about deploying a solution that fits your business and one that your people will use.

We're about the business solution - not the technology.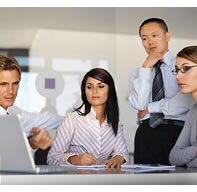 Castle CRM Value Statement

Castle CRM Value Statement